By Makereta Komai, PACNEWS Editor in Tokyo
Two athletes from Oceania were guests on the BBC World Sport broadcast in a live cross on the Tokyo 2020 Games Wednesday morning.
Jonah Harris (Nauru) and Karalo Maibuca (Tuvalu) are national 100m sprinters in their respective countries.
They shared with BBC sports presenter, Sarah Mulkerrins their experiences coming from two of the smallest National Olympic Committee (NOCs) competing at the Tokyo 2020 Summer Olympics in Tokyo.
"It was scary to be on a live television interview with BBC but it's good to get small countries like Nauru on the global map and hopefully get recognised, said Harris who was placed 5th in heat three of the men's 100 m preliminary round on Saturday.
For Tuvalu's Karalo Maibuca, "The international media exposure will send a message that even though we are a small country and many people don't know about us, we wanted to tell the world that we exist."
Both the athletes shared the COVID19 lockdown and travel restriction were their biggest challenges heading to Tokyo.
"In addition, access to facilities and limited or no technical support for training were other major drawbacks, the two athletes told Mulkerrins.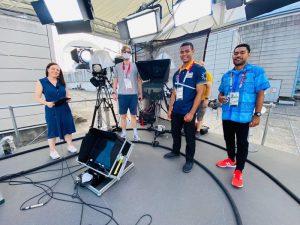 To ensure athletes from Nauru and Tuvalu get to Tokyo to compete, the Oceania National Olympic Committee (ONOC) and the International Olympic Committee (IOC) assisted their NOCs to charter an Air Nauru plane to bring athletes from Kiribati, Nauru, Solomon Islands and Tuvalu.
When questioned on how it felt being in a smaller team compared countries with big delegations like the U.S and China.
"It was intimidating at first but we overcame that through positive thinking and it was good to see the solidarity amongst countries in Oceania and we supported each other through ONOC, explained Harris and Maibuca.
Harris said the experiences of competing alongside the world's best athletes is still sinking in.
"To be amongst the best and fastest sprinters in the world is an inspiration. We also use want to make sure that we use the experiences that we gained here to position our island countries, he said.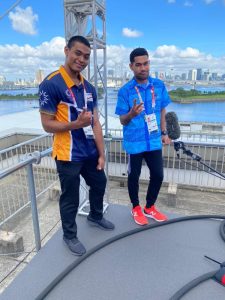 The two athletes, who made their debut appearance in the 100m preliminary round on Saturday say there were a lot of interest back in the islands on their performance in Tokyo.
"In Tuvalu there lots interest about our participation and people were watching on television, said Maibuca.
Harris said there was no broadcast feed, so people watched the 100m preliminary round on livestream.
Both Nauru and Tuvalu NOC's sent two athletes each – a male and female – to compete at Tokyo 2020 postponed Summer Olympics.
SOURCE: PACNEWS