By Makereta Komai, PACNEWS Editor in Tokyo
At only 18 years of age, Nancy Abouke of Nauru is now ranked 10th in the women's 76kg category after her Tokyo 2020 Olympic debut in weightlifting.
The young Nauru lifter competed alongside some of the world's top female lifters in the 76kg body weight category, recording a total lift of 203kg (snatch-90kg and 113kg clean and jerk).
Although not her best, Abouke told PACNEWS she was aiming for 95kg in snatch and 120kg in clean and jerk in Tokyo, but fell short.
The Nauru Olympian admitted she was nervous and under immense pressure during the competition.
"I was up against some of the world's best and experienced lifters that I admire and look up to. I was motivated to do my best because I want to be like them and may be one day, beat them, said Abouke.
At 15, she represented Nauru at the Pacific Games in 2019 in Samoa and the Junior World Championship in Fiji, the same year.
When Abouke was selected to represent Nauru, a Pacific nation with close to 11,000, at the 2020 Olympics in Japan, she was honoured but felt a huge sense of responsibility to be ambassador of her country at the world games.
"I am now motivated to encourage more young people and women to take up weightlifting or any sport and encourage them to train hard and compete at the Olympics like me. I hope I have inspired a lot of young people in my country and around the Pacific to achieve their dreams.
Her biggest inspirations come from her coach, Quincy Detenamo and dad, Peter Abouke who introduced her to weightlifting at a young age.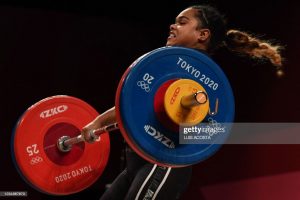 "I am happy to see a lot of women participating in many sports here at the Tokyo Olympics. Personally for me, I am happy that I am one of the only female athlete to represent Nauru here at the Games.
Abouke and two other lifters from Oceania – Kuinini Manumua from Tonga and Tanumafili Jungblut of American Samoa qualified to compete at the Tokyo Olympics through what's known as 'tripartite' entries offered by the Olympic Games Tripartite Commission.
Tripartite places are awarded to National Olympic Committee (NOC) in nations "which have traditionally sent small delegations to the Olympic Games".
The International Olympic Committee (IOC) states that an objective of the Commission is "to contribute to enhancing and reflecting universality" by inviting athletes from nations that have been unable to qualify.
This rule enabled the three weightlifters from American Samoa, Nauru and Tonga in Oceania to qualify to compete in Tokyo.
Another former Nauru female weightlifter, Charisma Amoe-Tarrant was also in action here in Tokyo for her adopted country, Australia in the women's 87kg weight category – competing alongside Tonga's Manumua Monday night.
22-year-old Amoe-Terrant, now ranked 6th in the 87kg category, started lifting weights at the age of 11 in Nauru. She initially trained to compete in shot put but an uncle encouraged her to try out weightlifting.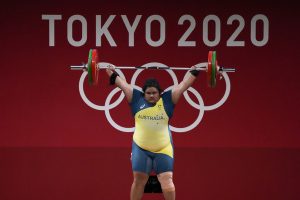 She became the first Nauru female weightlifter to win silver at the world junior championships in the +90kg clean and jerk and bronze in the +90kg overall in Tashkent, Uzbekistan before she moved with her grandparents to Australia in 2012.
In 2019 she decided to switch to representing Australia, having previously competed for Nauru. "I've lived in Australia since I was 13, it's my home and my future. Nauru will always be the place I'll remember, where I was born and raised, it will always have a place in my heart, she said…. PACNEWS