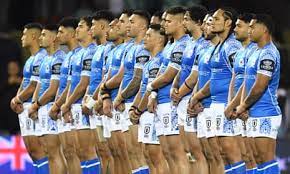 oa Samoa has been handed a rough reminder at the 2022 Rugby League World Cup that a team of superstars doesn't necessarily win games.
The reminder came from host nation, England, who ran in 10 tries to annihilate a lacklustre looking Toa Samoa team, 60-6, on Sunday morning. The Junior Paulo-led team packed with the best of the NRL and several Grand Final winners, simply had no answer to their counterparts who fired an early warning shot to the other big guns, much to the delight of their fans.
The same, however, cannot be said for Toa Samoa and their supporters, many of them would miss Sunday church services, given the time difference where they were up at 2.30am to cheer for their team. The game was also played on a morning where most Samoans would be out to hunt for palolo, a sea worm delicacy in the Pacific island nation, that only rises twice a year, and yet some die hard fans sacrificed the annual pilgrimage for the Toa Samoa.
After all the hype about Toa Samoa, and how their opponent entered the match as the "underdogs", the only victory the men in blue could possibly lay claim to was during the pre-match war dance challenge when some players showed more passion than they actually displayed during the 80-minutes match.
England dominated the early exchanges but the game remained relatively competitive until the floodgates were blown open in the second spell. Welsby, Young (2), Watkins, Farnworth, Whitehead (2), Makinson, Williams and Burgess all claimed at least one try each for England while Izack Tago was the only Samoan player to write his name on the scoresheet.
Things became considerably worse for coach Mat Parish and his men when Anthony Milford was sin binned with three other key players, Braden Hamlin-Uele, Tyrone May and Hamiso Tabuai-Fidow injured.
"The English team played very well," Parish told the media at the end of the game. "We had a few injuries and setbacks we didn't handle as well as we could."
England's coach, Shaun Wane, on the other hand could not contain his excitement.
"Nobody gave us a chance to win the game but within our group, we knew what we can do. We enjoyed all that negativity, to be honest," he said. "We're just happy to do what we do, whatever people comment. That's up to them. We're not going round thinking we can't improve though, because we have to get better."
The loss does not end Samoa's World Cup hopes. They still have a chance of making the playoffs but they will need to beat Greece and France, for a possible Polynesian showdown against Tonga.
On paper, there is a very good chance of that happening but on the account of Toa Samoa's effort against England, they have a lot of work to do….PACNEWS
SOURCE: SAMOA OBSERVER/PACNEWS