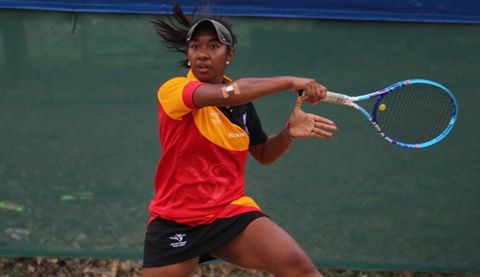 The Papua New Guinea women's team won the 2022 Pacific Mini Games gold medal in tennis by beating Fiji on Saturday at American Memorial Park.
The PNG's Abigail Tere-Apisah had a dominant performance as she shut down Ruby Coffin of Fiji 6-0, 6-0.
Right from the start, Tere-Apisah controlled the pace, setting up smashes and returning with quickness and precision.
In the other women's singles match, the PNG's Violet Apisah outplayed Fiji's Saoirse Breen.
It was a fairly even match in the first set with Breen keeping up with Apisah in the first few games.
Eventually, however, Apisah gained control and bagged the first-set victory, 6-2.
In the second set, Apisah allowed Breen to win one game before the PNG player secured victory, 6-1.
With two wins in the bag for PNG, the Women's Doubles match was no longer needed. PNG won the gold and Fiji had to settle for the silver.
In the battle for the bronze medal, Tonga edged the CNMI, 2-1.
The NMI's Maria Heras defeated Tonga's Ana Finau Tamanika, 6-4, 6-0, but Tonga's Ela Vakaukamea excelled in an extended battle with the NMI's Asia Raulerson, 2-6, 6-3, 6-4, to even the team match score.
In the decisive Women's Doubles match, the combined power of Tamanika and Vakaukamea outlasted Heras and Raulerson, 6-3, (9)7-6.
It was Raulerson's first time playing in an international competition.
She flew in from Florida just to compete for the NMI in the Mini Games. "I really wanted to represent my islands," she said. "So far, this is the biggest tournament I've played in. I think the competition is very hard, very competitive. Everyone has a national ranking. I feel privileged to be here.".
SOURCE: MARIANAS VARIETY/PACNEWS