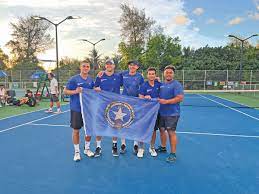 The CNMI men's team bagged the host's first gold in the 2022 Pacific Mini Games after besting Vanuatu 2-1 Saturday at an American Memorial Park tennis court.
The first match was between the NMI's Robert Schorr and Vanuatu's Clement Mainguy in the Men's Singles.
The two played with confidence, returning each shot with power behind the swing. After several lead exchanges, Mainguy started to control the momentum with continuous pressure, winning two games. But Schorr came back strong in the next two games to even the score 2-2.
Consistency was the key for Mainguy, a Davis Cup player, as he fended off Schorr's valiant efforts to clinch the first set, 6-4.
Schorr tried to stay in the fight but suffered from cramps.
However, if he were to pull out mid-set, he would not be able to participate in the Men's Doubles. Schorr decided to continue the game and took the second set and match loss against Mainguy 0-6.
The CNMI's Colin Sinclair was ready for a long battle as he showcased his strength and athleticism against Vanuatu's Aymeric Mara.
Serving with precision and quickness, Sinclair outgunned Mara several times from the service line alone. Sinclair was in complete control of the first set which he won 6-0.
Mara refined his performance in the second set, but it wasn't enough as Sinclair notched the set, 6-1, to even the team match score with Vanuatu, 1-1.
With Schorr well-rested and ready to get back on the court, he and Sinclair faced Mainguy and Mara in the Men's Doubles.
The NMI due played aggressively and swept the first set, 6-0. Vanuatu put up a fight in the second set but the NMI was simply too strong, winning 6-2 to secure the gold medal.
"With the guidance of our amazing Coach Jeff, the team is battling hard against many very talented players from other islands," team member Bobby Cruz said.
"Robbie and Collin are our workhorses, and they managed to pull off the gold in a clutch situation — the victory was definitely sweet," Cruz added.
SOURCE: MARIANAS VARIETY/PACNEWS