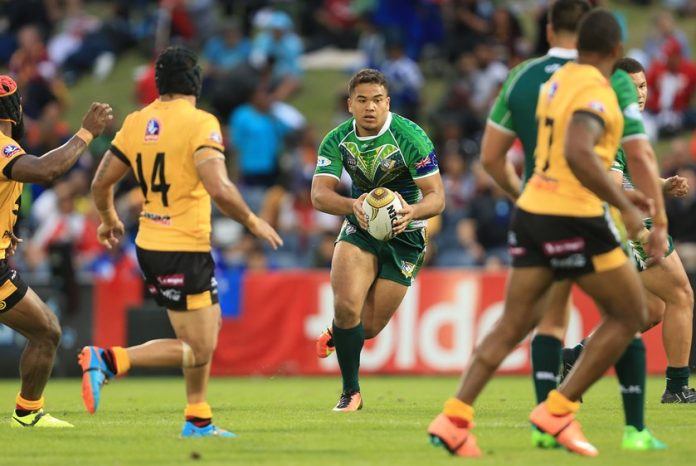 Former Roosters and Sharks forward Tinirau Arona will return from England to provide experience for a young Cook Islands team named for this Saturday night's Pacific Test against Samoa.
Arona, who plays for Wakefield in the Super League since 2016, is one of only seven members of the Cook Islands team which earned a place in the end-of-season World Cup playing in the June 25 Test at Campbelltown Sports Ground.
The squad includes three sets of brothers, Esan and Steven Marsters, Reuben and Vincent Rennie, and Kayal and Andre Iro – the sons of Kiwis and Cook Islands great Kevin Iro.
The team, which will again be coached by Tony Iro, also features Broncos pair Brendan Piakura and Xavier Willison, Rabbitohs prop Davvy Moale, Warriors forward Pride Pettersen-Robati and Eels prop Makahesi Makatoa.
"Of the seventeen men who last took the field for the Cook Islands against the USA, only seven are back for this match," Iro said.
"We have a promising young squad who will relish the opportunity at this level and to have Tinirau's experience will definitely help. He's been playing well at Wakefield and hasn't been home in four years so I'm sure he'll have a great week."
Former Warriors centre Anthony Gelling and ex-Panthers and Tigers back Geoff Daniela are other familiar faces in the Cook Islands squad.
2It's been a long two-and-a-half years since we last played and I know everyone in rugby league is looking forward to representative football again," Iro said.
"The key focus is to firstly get the boys to enjoy and embrace the opportunity to play for the Cook Islands.
"Every nation has its own unique identity, and we are no different. Preparation for these games is way different to club land and I know the players will enjoy the week."
Cook Islands team
Tinirau Arona (Wakefield)
Geoff Daniela (St Marys)
Anthony Gelling (NZ)
Kayal Iro (Newtown Jets)
Andre Iro (Southport)
Reece Joyce (NZ)
Makahesi Makatoa (Parramatta Eels)
Steven Marsters (Thirroul Butchers)
Esan Marsters (Gold Coast Titans)
Davvy Moale (South Sydney Rabbitohs)
Malachi Morgan (Southport)
Moses Noovao-McGreal (Norths Devils)
Pride Pettersen-Robati (Warriors)
Brendan Piakura (Brisbane Broncos)
Reuben Porter (Tweed Heads)
Reuben Rennie (Newtown Jets)
Vincent Rennie (Newtown Jets)
Brodie Tamarua (NZ)
Aaron Teroi (Central Queensland Capras)
Xavier Willison (Brisbane Broncos).
SOURCE: NRL/PACNEWS