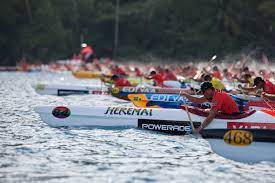 Multiple nations picked up a share of the medals on offer across three sports at the Pacific Mini Games in Saipan.
In the women's 49 kilograms category, Papua New Guinea's Dika Toua and Thelma Toua bagged gold and silver respectively with 266.071 and 220.895 points respectively.
With 214.835, Rowene Eddie Donga of the Solomon Islands bagged bronze.
Jenly Tegu Wini's effort of 324.280 earned a gold for Solomon Islands in the women's under-55kg category.
Prescella Piotrowsky of North Caledonian Islands with 220.910 and Erika Camacho of Guam with 200.886 earned silver and bronze respectively.
Among men, Raymond Hipol Santos of Northern Mariana Islands won gold in the men's under-55kg with a score of 324.280.
Philip Masi of Solomon Islands bagged silver with while Eroni Talemaigau Vuratu of Fiji settled for bronze.
Papua New Guinea got another gold when Morea Baru clinched the under-61kg title with 376.041.
Brown Ramohaka of Solomon Islands and Harold Aranda of Guam won silver and bronze respectively.
Manami Iijima with a time of 1 hour 6min 6sec won gold for Guam in the women's triathlon with Manon Brasseur of North Caledonia Islands bagging silver in 1:08:51 and North Caledonia Islands' Charlotte Robin finishing third for bronze in 1:10:26.
In the men's triathlon, Tahiti's Benjamin Zorgnotti struck gold in 1:58:00 while Mathieu Szalamacha of North Caledonia Islands bagged silver in 1:01:02.
Szalamacha's compatriot Patrick Vernay got bronze in 1:01:20.
Tahiti's Hinatea Bernadino won the open women V1 500 gold in va'a in 2:31.45 before the country took gold in the open women V12 500 as well in 2:05.76
Albert Mainquet of New Caledonia bagged the open men V1 500 gold in 2:11.23 before the country added to its tally with victory in the open men V12 500 in 1:49.43.
All sports except triathlon are being contested at the Games Tuesday (June 21)
SOURCE:INSIDE THE GAMES/PACNEWS