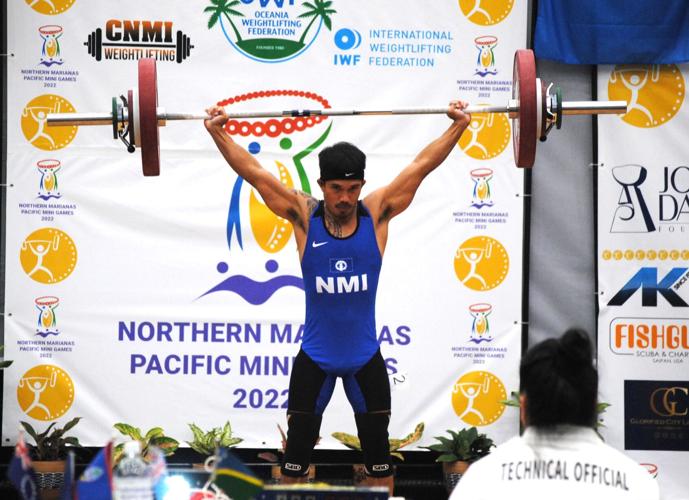 The CNMI is number three in the medal count thanks to the outstanding performance of Ray Santos who won three gold medals in the ongoing 2022 Pacific Mini Games, and another in the Oceania Weightlifting Championships on Monday.
Santos was nearly unmatched in the 55kg weight class.
He set the tone early by starting with 88kg in the snatch portion which he successfully completed.
Phillip Masi from the Solomon Islands managed to lift 91kg in his third and final attempt, but Santos quickly regained the lead with a lift of 92kg.
Santos attempted to extend his lead with 95kg but failed to execute. Still, he had already secured his first gold medal in the snatch.
Claiming the silver medal was Masi with three successful lifts — 80kg, 87kg and 91kg — while Eroni Vuratu of Fiji earned the bronze with one successful lift of 82kg.
The clean & jerk portion only solidified Santos's dominance as he kept the momentum flowing with 100kg and 115kg. He then tried to go beyond in his third and final attempt at 125kg but failed to control the lift. But he still won the gold — his second.
Masi also collected his second silver with three consecutive lifts — 100kg, 106kg, and 108kg — while Vuratu settled for the bronze after successfully lifting 105kg.
Santos earned his third gold medal in the snatch and clean & jerk combined for 207kg. Masi received his third silver with a total weight of 199kg while Vuratu bagged the bronze with a total weight of 187kg.
The Pacific Mini Games' weightlifting event coincided with the Oceania Weightlifting Championships which provided Santos with his fourth gold medal of the day.
The 31-year-old Public School System special education teacher said it was his chance for redemption, adding that in the previous Oceania competition he did not record a successful lift.
"So I started training last year," he said.
After winning the gold in the Oceania event, Santos said: "I'm dedicating these four medals to my family, the people that supported me, and to you guys. To represent CNMI has always been my dream and we made it, we did it!"..
SOURCE: MARIANAS VARIETY/PACNEWS