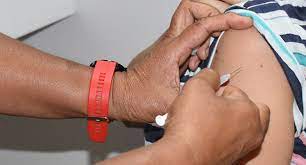 Over 23,641 people have received the second dose of the COVID-19 Astra-Zeneca vaccine in Tonga, since the second roll out programme started on 24 June in Nuku'alofa.
CEO for the Ministry of Health, Dr Siale Akau'ola confirmed that 23,641 people had now been fully vaccinated.
This is around 82% of the 28,841 people who had received their first dose of the vaccine.
The second roll out in the communities runs until 31 August.
The Ministry of Health is hoping to receive more COVID-19 vaccines for the remainder of the target population this year. They aim to achieve a 70 per cent vaccination rate for the whole population.
Dr Akau'ola said a consignment of 10,000 doses of AstraZeneca COVID-19 vaccines is scheduled to arrive in Tonga on Tuesday.
These doses are funded by the Australian Government and will be sent to Ha'apai.
Another batch of COVID-19 vaccines are also expected to arrive around middle to late August, funded by Japan through COVAX.
"Date and quantity will be confirmed soon. These vaccines will be utilized to vaccinate people living at Tongatapu, Eua and the Niuas," said Dr Akau'ola.
Another shipment of COVID-19 vaccines, including Pfizer doses, funded by New Zealand, is also planned for Tonga at the end of August or towards the last quarter of the year.
"These vaccines will be used to vaccinate anyone else in Tonga who may have missed out on the above vaccination drives."
The Pfizer COVID-19 vaccines from New Zealand will be for youth aged 12 to 17-years-old and pregnant women who want to be inoculated against the virus.
Dr Akau'ola said there were pregnant mothers who wished to be vaccinated with AstraZeneca vaccines now, "and we will not with-hold the vaccines from them".
"Data on the safety of COVID-19 vaccine to pregnancy is still being continuously collected and analysed – results so far has not shown any significant short term adverse effects," he said.
However, WHO is advising countries that are choosing to give vaccines to pregnant women, to first consider if the risk of getting COVID-19 is greater than the risk of adverse events from getting the vaccine, which has so far been shown to be extremely low.
"We have looked at these risks from Tonga's context and concluded that the risk of the COVID-19 Delta variant entering Tonga from Fiji is increasing. At the same time, vulnerability of Tonga to impacts of COVID-19 infection in terms of NCD risk factors remains quite high."
Combining these two risks, make the risk for an unvaccinated pregnant woman, extremely high, he said.
"In fact, if a COVID-19 Delta variant outbreak happens in Tonga, it will be too late to vaccinate pregnant mothers to protect them. Their only chance is to get them vaccinated now while Tonga is still COVID-19 free."
Pregnant women who want a COVID-19 vaccine will be provided information on the risks involved prior to inoculation.
SOURCE: TONGA WIRES/PACNEWS