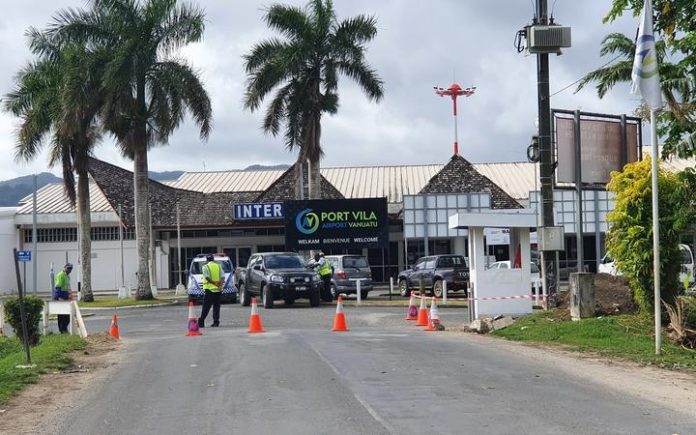 Vanuatu Ministry of Health (MOH) has confirmed that the current COVID-19 community transmission was the result of a quarantine breach.
Director of the Department of Policy and Planning at the MOH, Dr Samuel Posikai, made the confirmation when he and the Acting Director of Curative and Hospital Services, Dr Sereana Natuman, were updating the public about the community outbreak.
Dr Posikai was responding to a question on how COVID-19 spreads from quarantine to the community.
Dr Natuman said there are only two ways for this transmission to happen, either a person got exposed to the contagious disease at a quarantine site where he/she was not supposed to go to or through a positive case leaving quarantine.
On Tuesday, the Leader of Opposition, Ralph Regenvanu, released a statement accusing the Deputy Prime Minister (DPM) and Minister of Internal Affairs, Ishmael Kalsakau and the Member of Parliament (MP) for Port Vila, Anthony Iauko, for causing the COVID-19 community transmission in Vanuatu.
The Opposition Leader alleged that MP Iauko unlawfully entered quarantine several times since the arrival of the New Zealand flight. He alleged the MP took people out from quarantine to socialise with him and returned them back.
Regenvanu stated: "In the week leading up to 04 March, MP Tony chaired a Parliamentary Committee meeting with other MPs and Parliament staff, attended a number of community gatherings, and was in direct contact with PWD staff who subsequently travelled to the islands."
MP Iauko has dismissed the allegations raised by Regenvanu and also the public on social media about him visiting his uncle Nazario and a female Air Hostess.
He brushed aside allegations about him bribing a security officer to release people from quarantine to socialise with.
"All these speculations going around are not true. People should understand that I have an existing medical problem and I do not drink kava. Also, I have not taken vaccine yet because of my medical condition and would not risk getting expose at a quarantine site," he said.
MP Iauko said instead of blaming him, the public should be really questioning the MOH, as the community outbreak could have already happened before he was confirmed positive because he had never visited anyone in quarantine.
Regenvanu had also claimed that the DPM used his power of his position to force his way out from quarantine illegally, without proper medical clearance.
"The DPM came on a New Zealand flight on 20 February with 19 passengers who were later tested positive. The protocol is to extend the quarantine of all passengers on the same flight for a further seven days.
"Kalsakau refused to be subject to the same rules as everyone else, and used the power of his position to force his way out. He was home by last Sunday afternoon while his fellow passengers remain in quarantine in accordance with the law," Regenvanu conveyed.
In his response, DPM Kalsakau said what the Opposition Leader's statement is misleading. He said he received his authorisation letter for release from the MOH after 14 days, and tested negative three times before leaving quarantine.
Kalsakau said before be left on the 14th day, he asked the MOH if there is anything preventing him from leaving quarantine but has received no response.
Asked if he received the instruction from MOH on extending their quarantine stay, the DPM said he did not receive any instruction.
The Daily Post could not obtain a copy of the DPM's release letter from the Director of Public Health prior print. However, the Acting Director of Curatives and Hospital Services, Natuman, said there is a strict process to follow before discharging people from quarantine.
Meanwhile, a passenger who came on the same flight with the DPM and is still in quarantine, has questioned why they are still being kept in quarantine when the DPM has already been released.
"Does the quarantine protocol apply to only ordinary people, excluding MPs?" the passenger asked.
"We had our first test before boarding in NZ. Our test results were negative. Our second test was done upon arrival at the airport and again last week. We understand only those who were tested positive were informed of their results.
"We are 100% sure we are not positive. Our question is why the DPM has been released and we are still here (in quarantine)?"
The Leader of Opposition has called for an investigation into the alleged actions of the DPM and MP Iauko.
SOURCE: VANUATU DAILY POST/PACNEWS