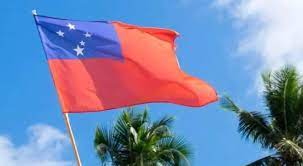 Samoa's Head of State has extended the proclamation of the State of Emergency (SOE) to next month due to a "grave emergency" where a "catastrophe" threatens the security of the nation.
The proclamation signed by His Highness, Tuimaleali'ifano Va'aletoa Sualauvi II on Friday extends the nation's SOE from 11 April to 08 May 2022.
In his proclamation the Head of State noted this follows consultation with Cabinet as set out in FK (22) 12 where he is "satisfied that a grave emergency exists where the security or economic life of Samoa [is] threatened by a catastrophe…"
It has been three weeks since various restrictions and lockdowns went into effect following the detection of the country's first community transmission of COVID-19 which rapidly spread throughout the country within days.
In less than a month since the first community case, more than 3,000 people are infected with three deaths confirmed by the Ministry of Health.
To date the MOH has been unable to determine how the first individual from the community got the virus as she had never left the country over the last 12 months.
The individual who is a volunteer and an U.S citizen was undergoing her prerequisite COVID-19 tests as part of requirements to leave the country when it was discovered that she was positive. Local health officials have sent samples to New Zealand seeking further clarification.
To prevent the spread of COVID-19 in the community the Government promptly shifted the national response to a nationwide lockdown a day after the first community case was confirmed.
In addition it quickly moved to up its mass vaccination to cover the unvaccinated population and the paediatric programme that was only beginning its roll out at the time.
After more than two weeks under Alert Level 3, Prime Minister, Fiame Naomi Mata'afa announced the shift in the country's national response to Level 2, opening the door for to businesses to open and Government officers to resume work.
As of Friday, the latest report from the MOH recorded 3,260 community cases since March with the majority in Upolu and just 128 in Savaii. Manono and Apolima have no positive cases on the islands.
The vaccination rate shows 91.3 percent of the 18 and over population have received two doses and 82.5 percent of 12–17 age group have also been fully vaccinated. Those aged 5 –11 years have recorded 92 percent received the first dose and 6.7 percent are covered with both doses. Only 48,475 people have got their booster shots.
SOURCE: SAMOA OBSERVER/PACNEWS