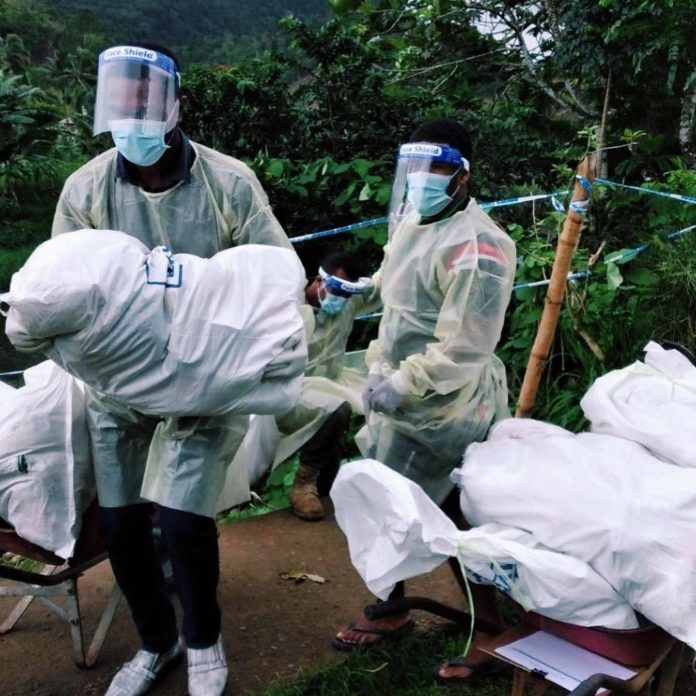 Just four months ago, Fiji had kept COVID-19 at bay.
The Pacific country, which instituted strict border controls and quarantine, had recorded 68 cases between March 2020 and 09 April 2021.
A travel bubble with Australia and New Zealand, which would have revived its struggling economy, was on the table.
Today, the country is recording daily case numbers of over 700 infections, turbocharged by the Delta variant.
Restrictions on movement have increased economic hardship and the health system has struggled to cope – with more than half of the country's 58 deaths recorded in the past fortnight.
Food rations are now being distributed by Fiji's government to impacted families.
The sudden change in fortune has left Australia's Fijian population, Fiji's largest diaspora group, shell-shocked.
"It's quite a sort of disbelief to hear the stories that are coming back from our own individual families," Uli Cava, president of the Fiji Community Association of Far North Queensland told SBS News.
"It's quite heartbreaking."
Fiji's culture is one where family ties are considered important and health authorities have struggled to communicate the stay-at-home message.
"Fiji is communal, and the rise in numbers of daily contractions is a true manifestation of that reality," Uniting Church Minister Reverend Viniana Ravetali said.
"The concerns are varied: from rising numbers almost on a daily basis, to a weak and ineffective health and medical system that is just incapable of managing something of this magnitude."
Countering misinformation has also been a challenge.
Throughout the pandemic, Cava and others in his community spent hours on phone with family overseas to explain the health messages.
"In the initial phase, we were dealing with family members back in homes, talking to them about 'stay at home, don't go out' and all those sort of things," he said.
"The real fear is that the way that we live our life back in Fiji, and the way COVID is transmitted would just be a perfect combination for that particular virus to spread rapidly."
Cava's mothers' family live on the outer islands of Fiji, which have been isolated by authorities as a precautionary measure.
"Certainly the mainland is struggling with the weight of infections that are happening at the moment, but, you know, the outer islands certainly don't have any support whatsoever," he said.
Rohit Roy Kumar, board director of the Australian Integrated Fijian Association of Victoria, told SBS News "it was devastating and heartbreaking to watch what's happening".
Kumar is the only member of his family in Australia. Most are still living in the western city of Lautoka, the second largest in the country.
Ongoing international border closures mean he hasn't been able to see his family for two years, a difficult burden in a family-oriented culture.
"I used to go to Fiji once every year, even sometimes twice every year," Kumar said.
"It is really hard and it's not only me. There's a lot of people that have gone through the same situation.
The outbreak also has dashed any possibility of a travel bubble arrangement between Australia, New Zealand and the Pacific nation, which would not only have reunited families but helped revive an economy reliant on tourism.
"As a Fijian a born and bred there, I am actually quite sad that we are now the one country in the Pacific that is having uncontrollable amounts of cases," Sylvia Chand, President of the United Pasifika Council, told SBS News.
She says her school friends living around Nadi, which houses the island's major international airport, are among those hardest hit.
"They're the ones that are struggling because they are in the villages. They actually live in the outskirts of the villages. They're struggling a little bit for things like food, you know, because they can't go to work."
When Fiji's latest outbreak began to escalate in April, members of the community across the country did what they could to help their families, including sending food and groceries purchased in Australia overseas.
"I must say Western Union and all the other moneygram (services), they're probably making a killing – with a lot of money being actually being sent out of Australia," Chand said.
"We're so lucky. We are here in Australia, and even New Zealand, because we have that opportunity."
"In the initial phase, a lot of individual families have been sending, you know, sort of personal things back to Fiji to try and help out," Cava said.
"But you know that can only help so far."
"People are obviously starting to get into more organised fundraising activities to try and see how we could assist."
Members of the extensive network of Fijian Uniting Churches have also held special services.
"Another mechanism of response, which is most common, is by holding them in our daily prayers, praying with them and praying for them," Rev Ravetali said.
"Faith actually really plays a significant role in families and communities."
There are signs the curve of infections in the country is plateauing but the consequences are likely to linger in Fiji for years.
"I think this will have a long-term impact on Fiji and the economy because it is a country, which is reliant on tourism from the airport industry, to the hotels, to the taxi drivers to the hospitality industry," Kumar said.
The outbreak and tightening of border controls has left seasonal workers on temporary visas stranded in Australia.
"The community gathering in Cairns for those that are here, engaged in fruit picking and so forth, have sort of grown somewhat in the last sort of 12 months," Cava said.
"As a community, what we're doing is that we've decided to engage in community barbecues and so forth where we can just get together and provide support for those that are perhaps missing home or perhaps, you know, sort of having family members struggling in Fiji.
"Knowing our culture, and how people are so used to getting together and being able to sort of share what's going on and in their lives, all those sorts of things are quite sort of important.
"In these tough times, it's really important to be there for them," said Cava.
SOURCE: SBS/PACNEWS