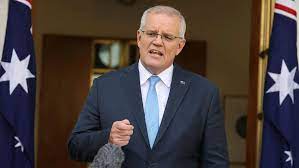 Scott Morrison has kicked off his campaign to become the first Australian prime minister in a generation to win a second term after calling an election on 21 May.
Morrison's coalition government trails the opposition Labor party in the polls and faces a tough task to narrow that gap over a six-week campaign that will be disrupted by Easter and other public holidays.
The election sets the stage for a bitter battle that will test Australia's appetite for change as it seeks to recover from the Covid-19 pandemic and forge closer ties with Indo-Pacific allies.
Morrison, speaking outside Parliament House in Canberra, said that now was not the time to "risk" a change of course. "It is a choice between a government you know and a Labor opposition you don't," he said.
He is the first Australian prime minister to serve a full term since John Howard lost the 2007 election. Four subsequent prime ministers were toppled mid-term by leadership challenges from within their own parties.
Yet Morrison, who enjoyed a "miracle" election win three years ago when he came from behind in the polls, has been the target of damaging personal attacks from within his own party in recent weeks, handing the initiative to opposition leader Anthony Albanese.
"Morrison turned 2019 into a referendum on Labor's reform plans. Albanese has turned this election into a referendum on the government's performance. That's wise," said Mark Kenny, a professor at the Australian National University.
A Roy Morgan poll published last week showed that the Labor party had extended its lead over Morrison's coalition government to 57 percent versus 43 percent when the choice was between the two main parties.
Morrison's Liberal party will focus on the strong economic rebound after the pandemic and rising geopolitical tension in the Indo-Pacific region. Morrison's government has increased military spending and taken a tougher line on China by forging the Aukus alliance with the U.S and UK.
The prime minister has attacked Labor's low profile in the run-up to the election. Albanese, a veteran Labor MP, has adopted a low-risk campaign thus far, aimed at turning the election into a vote on Morrison's popularity rather than his policies. That has led to frustration within Labor circles who think he should be more aggressive in taking on a weakened Morrison.
Albanese, who is vying to be the first Labor prime minister in almost a decade, has focused on elderly care, health and education in the run-up to the election, but has made modest proposals. He has batted away accusations from the Liberal party that Labor would raise taxes.
Australia has struggled with the pandemic, catastrophic bushfires and floods in the past two years, but the government remained in "chaos", said Albanese after the election was called. "As we emerge from this, Australians deserve better," he said.
Forced to confront the attacks from his own colleagues as he launched his campaign, Morrison said: "Our government is not perfect, it has never claimed to be." He acknowledged the issues with his personal popularity. "I get it, people are tired of politics," he added.
SOURCE: THE FINANCIAL TIMES/PACNEWS