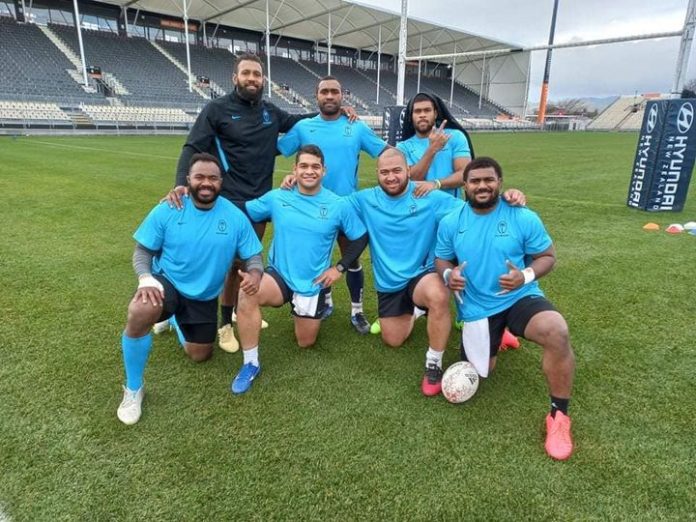 Some players will join the Flying Fijians camp just three days before the first test against the All Blacks next weekend.
At the moment it's unclear whether Frank Lomani, Teti Tela and Moses Sorovi will join the squad as they're still stuck in Australia due to the latest COVID-19 situation in Queensland.
Head Coach Vern Cotter says for those in New Zealand they'll all come together and train as a team
"Eroni Mawi left the UK late we couldn't get an early release for him, Peni Ravai and Peceli Yato came out of France late so they'll join us on Tuesday so the majority of the group except for those three will join us on Tuesday, we are still waiting for the three players from Australia, so effectively we will not have the whole squad together until Wednesday next week before the test which is not ideal".
Cotter, however, says they're dealing with professional players and he trust their abilities to adapt in the present situation.
He also says the players and management will have to work according to what they can control.
"We can't change it so we are not worrying about it we just trying to maximize the time we have and be as positive as we can about it and the players are doing that as well and I admire them for it we know what the situation is and it can't change so we are working within those boundaries to be as effective as possible".
Tailevu halfback Simione Kuruvoli is now in the running to wear the number nine jersey in the first test against the All Blacks.
Kuruvoli is the only halfback in camp with the Flying Fijians in New Zealand at the moment.
Two halfbacks, Frank Lomani and Moses Sorovi along with Teti Tela are still stuck in Australia due to the current COVID-19 situation.
Cotter says it's unclear when the trio will join the rest of the team in New Zealand.
Cotter says if nothing changes then Kuruvoli will have to step up.
"The Australian/New Zealand Trans-Tasman travel bubble is stopped at the moment so these three players are in Australia and can't get to us, that's a concern and Simi(Kuruvoli) might have to play a big role as a local player, young player in the first test match if we can't get these players out of Queensland".
The national coach adds he is impressed with local players Kuruvoli, Onisi Ratave and Vinaya Habosi.
"We've got a couple of players coming from the sevens so we're having a look at them and they're obviously very fit and very fast and they've just got to fit in to our 15s game".
Meanwhile, the Flying Fijians' test match against the All Blacks will be one for the books for most of the players who will be donning the national jumper next month.
Cotter says whatever happens in the 160 minutes of rugby will be beneficial for the team moving forward.
He says they will take the first test match as a bit of an experiment to test the strength of the opponent and the second match will be strategic.
"So the first test we play we'll be looking at ourselves where we can perform to put them under pressure, we will be looking of course attentively at their midfield position If it's David havili whose preferred position is fullback, we know they're going to experiment, we know they're under pressure, they lost two games last year against Australia and Argentina"
Fiji will play back to back matches against New Zealand in Dunedin on July 10th, and a week later in Hamilton.
SOURCE: FBC SPORTS/PACNEWS