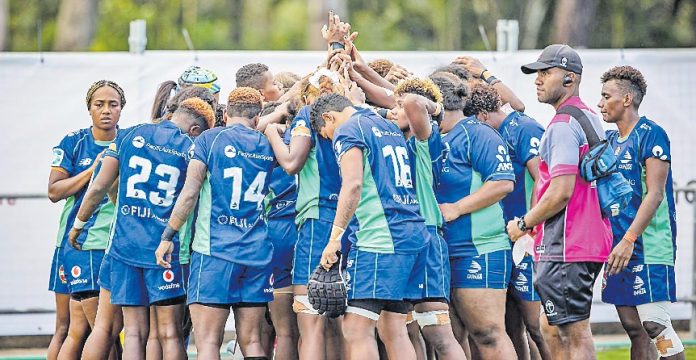 The Queensland Reds side has been confirmed for their first home game of 2022 against the Fijiana Drua at Suncorp Stadium this Saturday, as part of a double header, which will see both the Reds women and men in action.
Head coach Simon Craig has made minimal changes to his match-day-23 that travelled to Perth last weekend.
In the forwards, vice-captain Kiri Lingman returns to the side of the scrum, after an ankle injury ruled her out of selection for Round 1. Lingman will start at blindside flanker seeing Hana Lane shift to the reserves.
In the backs, after an impressive performance from the bench in Round 1, Sunnybank's Renae Nona will start in the 10 jersey, with Skyla Adams ruled out of the match due to injury.
16-year-old Malaela Su'a has been called into the side to make her Super W and Queensland debut, she will start at inside centre seeing Cecilia Smith shift to outside centre and Melanie Wilks to the wing, with Caitlyn Costello named in the reserves.
In honour of Queensland Rugby Union's Pasifika Round, nine players will proudly wear the flag of their pacific background on their jersey. Alapeta Ngauamo (Tonga), Liz Patu (Samoa), Kiri Lingman (Maori), Ivania Wong (Papua New Guinea), Malaela Su'a (Samoa), Cecilia Smith (Samoa), Grace Qaranivalu (Fiji), Evelyn Horomia (Maori), Oke Manihera (Maori), and Imogen Hei (Maori) will all sport the flag of their heritage.
"We're really excited to be back home this week and playing at Suncorp Stadium," said Craig.
"The team really gelled as a group last weekend, on-and-off the field, and we're looking forward to showing what this group is about to our family-and-friends on home turf.
"We've been able to be relatively stable in selections this week, with only a few minor changes. Kiri (Lingman) offers us some added experience in the forward pack and will be handy in air as one of our line-out options, while Maleala (Su'a) will provide some added punch to our midfield.
"It's a shame to lose Skyla (Adams) for this week's match, but Renae (Nona) was quality off the bench last week and I'm excited to see what she can do at flyhalf.
"We were lucky to play Fijiana in a trial match a few weeks ago so we have an idea of what we're in for this weekend. They play a sevens style of game and will be dangerous in broken play. We need to back our set piece and defence systems and ensure we limit their opportunities.
"Both our Reds women and men really came together last week in Perth after what was a tough week for Queenslanders with the floods, the club as a whole is looking forward to playing in front of our home crowd this weekend and I would really encourage everyone to come along and support us in our first of two double-headers at Suncorp Stadium."
The Reds will take on the Fijiana Drua in Round 2 of Super W on Saturday evening at Suncorp Stadium, kicking off at 4:15pm AEST, followed by the Super Rugby Pacific match between the Reds and the Fijian Drua at 6:45pm. Ticketing and match day info are available via Reds.Rugby.
As for the Fijiana Drua, captain Bitila Tawake shifts from number eight to the front-row after a dominant display last week.
Jiowana Sauto reverts to flanker as Sereima Leweniqila replaces Tawake at the back of the scrum.
Vani Arei comes into the centres to partner Raijieli Laqeretabu, with Vitalina Naikore and Kolora Lomani swapping wings
REDS (1-15): Alapeta Ngauamo, Tasmin Sheppard, Liz Patu, Aleena Greenhalgh, Annabelle Codey, Kiri Lingman, Shannon Parry (c), Sophie Holyman, Sarah Lewis, Renae Nona, Ivania Wong, Malaela Su'a, Cecilia Smith, Melanie Wilks, Ellie Draper
RESERVES: Grace Qaranivalu, Madi Schuck, Evelyn Horomia, Hana Lane, Oke Manihera, Imogen Hei, Nicola Emsley, Caity Costello
FIJIANA (1-15): Bitila Tawake (c), Vika Matarugu, Joma Rubuti, Jade Coates, Doreen Narokete, Jiowana Sauto, Ema Adivitaloga, Sereima Leweniqila, Rejieli Uluinayau, Merewalesi Rokouono, Kolora Lomani, Vani Arei, Raijieli Laqeretabu, Vitalina Naikore, Roela Radiniyavuni
RESERVES: Keleni Marawa, Ro Silo Togotogorua, Mereoni Naositava, Akosita Ravato, Karalaini Naisewa, Rusila Tamoi, Timaima Ravisa, Leonie Burnes .
SOURCE: QUEENSLAND REDS/RUGBY.COM.AU/PACNEWS