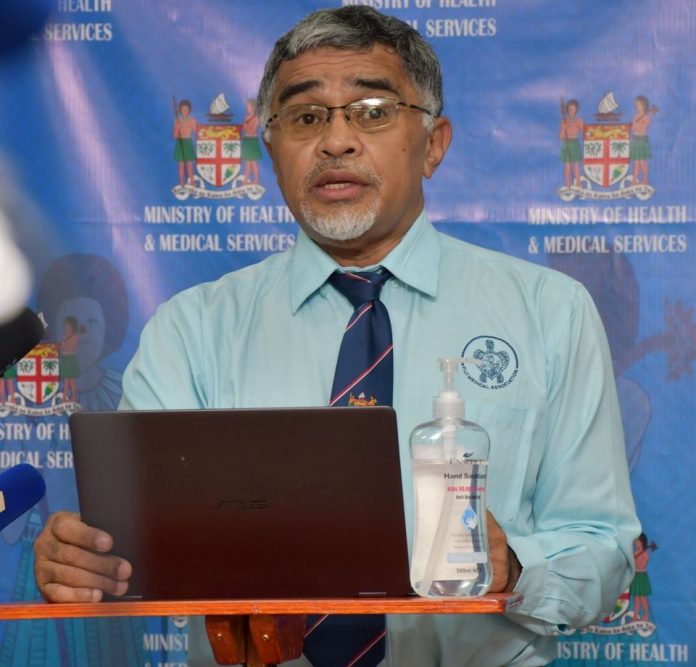 Eighty-nine new cases of COVID-19 have been reported in Fiji Monday.
This was confirmed by the Ministry of Health and Medical Services Permanent Secretary Dr James Fong in his virtual press conference.
82 of the new cases are linked to the existing clusters:
*IMT: 9
*Nasinu Police Barracks: 17
*Waila: 6
*Naitasiri: 1
*Lami: 1
*CWMH: 4
*Caubati: 5
*Nawajikuma, Nadi: 6
*Navy: 19
*Navosai: 2
*Grantham Road: 3
*Kinoya: 7
*Reservoir Road: 2
Cases from the following areas are under investigation to determine whether they have links to other cases: Nausori (2), Sakoca (1), Samabula (1).
Three more cases are primary contacts of an earlier case, and the relevant contact tracing teams are investigating to determine the cluster link.
Clusters are the areas where the risk of transmission is the highest.
However, Dr Fong said clusters do not always denote a location.
"Someone can be linked to a cluster but live in a different part of Suva than the case they are linked to," Dr Fong said.
"And there are certainly cases beyond these clusters we have not identified," he said.
"But risk resides everywhere in the Central Division.
"And –– we have good reason to suspect –– in other areas of Viti Levu as well.
"So we must still take every possible measure to protect ourselves."
"23 patients have recovered, which means there are now 860 active cases in isolation. There have been 1136 cases during this outbreak that started in April 2021.
"We have recorded a total of 1206 cases in Fiji since the first case was reported in March 2020. There have been 335 recoveries and 4 deaths due to COVID-19. A total of 7 COVID-19 positive patients have died from pre-existing non-COVID-19 related illnesses," said Dr Fong.
Meanwhile, extensive discussions are taking place to create a mechanism for the many Fijians stuck in Viti Levu to return home.
Dr Fong said in many instances children have not seen their parents, wives and husbands have been separated.
"They want to go back home, I'm sure we all understand that," Dr Fong said.
"The Ministry with MCTTT, Ministry of Maritime and Rural Affairs and Ministry of iTaukei Affairs have put together a number of protocols to ensure that the protocols of safe travel, including a proper 14 days of quarantine, are fully adhered to," he said.
SOURCE: FIJI TIMES/PACNEWS