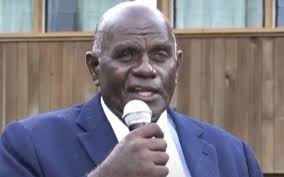 The Speaker of the Bougainville parliament, Simon Pentanu, has confirmed that he has Covid-19.
Pentanu said he was now into day 5 of 14 days in isolation.
His infection comes as part of a surge in Papua New Guinea of Covid-19 infections, where there were now over 3,000 cases and at least 36 deaths.
In the autonomous region of Bougainville, the number of infections was still being measured in the dozens, with no known deaths.
Pentanu, in a Facebook post, wrote:
"I have no qualms coming out in public about this. I am now in isolation on 14 days lockdown. I would not wish this on anyone, least of all on members of the same family. It is not nice. Its morbidity in the country is serious, increasing and more than worrying."
Pentanu's revelation followed confirmation that Kerema MP Richard Mendani, who was 53, died of Covid-19 over the weekend.
Mendani had initially been diagnosed with pneumonia before Covid-19 was confirmed.
Over a dozen members of the PNG Parliament have been diagnosed with the coronavirus since the beginning of the pandemic.
SOURCE: RNZ PACIFIC/PACNEWS