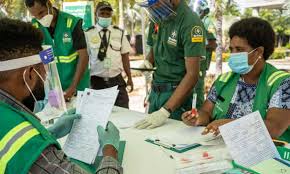 Health facilities in the capital city of Papua New Guinea are facing manpower crises as a direct consequence of the exponential increase in the Covid-19 cases.
National Capital District (NCD) health authority acting chief executive officer Ken Wai said the Gerehu Hospital, which was the only major hospital apart from the Port Moresby General Hospital (PMGH), was closed because many of the staff had contracted the Covid-19.
Wai said the hospital could not continue to close because people depended on it hence, they were working around the clock to have it opened.
"I am organising new short term contract staff (STCS) to help us and it will be opened today (Monday)," he said. "More staff are falling ill with the Covid-19 so we will recruit 10 more STCS for Gerehu Hospital and 57 STCS have already been hired and are operating Rita Flynn Covid-19 centre for the last two weeks.
"More awareness has been done throughout the city for two weeks by our public health staff.
"The National Capital District Commission came in big to go out to 75 hot-spots to do awareness from Friday to Monday.
"Today, (we) met to enforce the prevention measures with police, military and Road Transport Association.
"Clinically, triaging and testing is continuing and we are managing patients at PMGH, Rita Flynn and the Taurama Aquatic Centre will be opened on Thursday."
Wai said as of Monday there were 31 Covid-19 patients at Rita Flynn.
The closure of Gerehu Hospital has put a strain on PMGH as patients were all going to the country's major referral hospital according to the chief executive officer Dr Paki Molumi.
Due to growing number of staff getting infected, on March 8 the hospital announced that it would be scaling down and prioritising its services over the next two weeks.
Dr Molumi said the hospital experienced a huge surge in the last two weeks which saw more than 200 cases reported which include staff, patients and guardians.
He said more than 100 staff were isolated and six to eight cases were reported at the hospital daily with a trend of 70 per cent infection rate in positive cases.
Meanwhile, PNG's only public ambulance service is under pressure as the number of the Covid-19 cases continue to increase in the National Capital District.
Apart from maintaining the normal ambulance services, St John Ambulance was responsible for transporting Covid-19 patients from home and between health facilities, chief executive officer Matt Cannon said.
"We are feeling significant pressure in terms of ambulance cases," he said.
"Due to the degree of decontamination required, it is essential ambulances are thoroughly decontaminated between patients. We have brought in more ambulances and we have rostered on extra ambulance officers, but we are seeing that the demand for emergency services exceeds what is available."
Cannon said there would be longer waiting times for ambulances during this period as the response to the Covid-19 emergency took up the service's available resources.
"We ask people to be patient, kind and respectful towards our staff," he said.
Cannon said more people were tuning up for testing at the drive-thru testing facility facilitated by SJA at the Taurama Aquatic Centre.
SOURCE: THE NATIONAL/PACNEWS