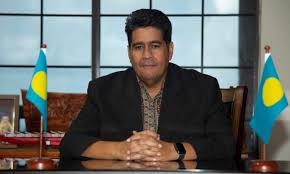 Palau is supporting Japan's plan to proceed with hosting the Tokyo Olympics next month, despite calls to cancel the games.
President Surangel Whipps Jr told the local reporters last week that the athletes competing in Tokyo Olympics together with their coaches "can participate safely."
Whipps also said the team going to the Olympics are all vaccinated.
"I believe that our Ministry of Health has done a fantastic job. They know all the people on the team that they really must be vaccinated. I support them and we wish them the best," Whipps said.
Whipps said he is aware of the situation in Japan but feels confident that the team from Palau will be able to take part in the Olympics.
"And yes, we understand the challenges that Japan has, but it's because they're not vaccinated. We're very thankful that we were able to participate and I think we can participate safely.," Whipps said.
Palau National Olympic Committee (PNOC) Secretary -General Baklai Temengil said one swimmer and one sprinter will be competing in the Olympics, while another swimmer is still awaiting the decision to qualify for the games. Two wrestlers are also awaiting results if they qualify to compete in the Tokyo Olympics.
With this, the Australian Embassy in Palau said in a press statement that its government is providing assistance to Palauan athletes in preparations for the Tokyo 2021 Olympics and Paralympic Games.
The assistance to Palau is part of Australia's larger commitment or the PacificAus Sports program.
"COVID-19 has created challenges for Pacific athletes to complete their final training programs and attend key qualifying events. The Pacific Aus Sports program is providing support to Pacific athletes so they can achieve their dreams," the Australian Embassy statement stated.
An estimated 150 Olympic athletes from the Pacific Island nations of Fiji, Federated States of Micronesia, Kiribati, Nauru, Palau, Papua New Guinea, Samoa, Solomon Islands, Tonga, Tuvalu, and Vanuatu are looking to secure a spot on their respective Olympic Games' teams, according to a statement from Australia's Minister of Foreign Affairs Marisa Payne.
It added that an additional twenty Paralympic athletes will represent Vanuatu, Fiji, Solomon Islands, PNG, Kiribati, Samoa, and Tonga at the Tokyo Paralympic Games.
SOURCE: ISLAND TIMES/PACNEWS