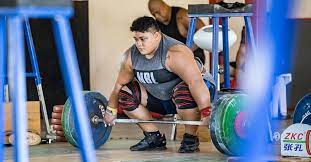 Samoan weightlifter Iuniarra Sipaia has confirmed her spot in the Tokyo Olympics next month and says she is honored to be representing the country.
Sipaia told the Samoa Observer in an interview on Tuesday that she felt honored and privileged to be attending her first ever Olympics and is hopeful of snatching a gold medal in her category.
SWA Samoa Weightlifting President Tuaopepe Jerry Wallwork also confirmed her attendance.
"Just officially confirmed yesterday Iuniarra Sipaia has now also qualified for Tokyo making it three weightlifters, the most ever we have qualified for [in] an Olympic Games," he said.
Describing how she felt upon getting the news of her Olympic qualification, Sipaia said it was unreal but a challenging journey to get to where she is now.
"First of all I would like to thank everyone that supported my journey and now I have successfully reached another level of my talents," she said.
"This is my first ever Olympics and I must say it is not an easy road for me.
"I have always prayed and hoped for this [and] now that it has come true I am very happy indeed."
Sipaia is competing in the super weight category and is ranked 8th in the world.
According to Tuaopepe, for athletes who are in the world's top 10, there are no doubts as to their qualification for the Olympics.
Qualification for this year's Tokyo Olympics is a step up from Sipaia's Pacific Games and Commonwealth Games appearances.
"I am overwhelmed but I will continue to work hard and make sure I bring home the gold medal," she said.
"It is my first time to represent Samoa at a level different from the Commonwealth and Pacific Games.
"Now the training will be extra hard as we need to be fit and be able to lift heavy weights and be the personal best in these Olympics."
"We worked hard to qualify so we must also work hard to achieve the main goal of going there."
Having already ticked the box, Sipaia's biggest fear now is getting injured before the start of the competition.
However, she believes she is able to overcome injuries and is going to make her mark next month in Tokyo.
"The worst that could happen for a weightlifter is getting injured before a game, it can drag down or ruin your preparations for so many months that you have trained.
"But I am grateful for the support I have here in my weightlifting family, from our President and coach to my weightlifting family.
"We continue to push one another to their limits and I hope that more of us will be able to go."
Hailing from the villages of Avele and Saoluafata and aged 27, the weightlifter said she hopes her lifelong dream comes true through the winning of a medal.
SOURCE: SAMOA OBSERVER/PACNEWS