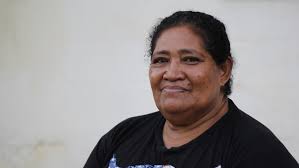 After the Tongan volcanic eruption and tsunami of January 2022, Mango Island was destroyed, making it uninhabitable for the residents.
A new community has been established in 'Eua, south-east of Tonga's main island, and residents were recently welcomed into their new community.
Residents from Mango island were packed into a military-style ship, singing and dancing as they approached their destination.
Mango Island resident Tipiloma Tutuíla lost her husband in the tsunami and is among the people now calling 'Eua home.
"Days have gone by and we are getting more familiar with our new home and environment, the place and the people," Tutuíla said.
Beyond joining the community, the Mango Island residents are also adapting to the new opportunities 'Eua could offer them.
"At a new place we look at the agricultural sector for income and putting our children in school, as this is a new area," Tutuíla said.
After the ship arrived at 'Eua, a huge group of residents were standing on the dock with hand-painted signs welcoming its new arrivals.
"We were warmly welcomed and we were told that we are their addition to the population. I am filled with joy, knowing that we are one people on a new island," Tutuíla said.
SOURCE: ABC PACIFIC/PACNEWS