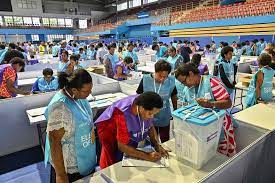 Counting in Fiji's national election on Friday showed Prime Minister Voreqe Bainimarama's party trailing the opposition in election results from the island nation's elections office.
Voter turnout in the third democratic election since Bainimarama came to power in a 2006 coup was less than 60 percent, which analysts said was the lowest in a decade.
His Fiji First party had attracted 22.08 percent of votes as of Friday morning, behind the People's Alliance Party (PAP) with 54.63 percent of votes, final election results showed, with around 283 of 2,071 polling stations counted.
Following them is the Social Democratic Liberal Party (SODELPA), which has 1633 votes, the National Federation Party (NFP) has 1053 votes, Unity Fiji is fifth with 795 votes while the other four parties and the two independent candidates have scores all below 400.
Meanwhile, Rabuka and FijiFirst Leader Voreqe Bainimarama's counts are neck-and-neck.
Rabuka currently has 2741 votes, while Bainimarama has 2732.
PA's candidate Lynda Tabuya has 842 votes, followed by her fellow party members Vitimi Rayalu, Ratu Antonio Lalabalavu, and Siromi Turaga.
Supervisor of Elections Mohammed Saneem, said these are rolling results and Fijians can expect a final outcome by Sunday.
The counting continues at the Count Cenre at the Vodafone Arena.
Bainimarama is in a tight race against another former coup leader and one-time prime minister, Sitiveni Rabuka, whose People's Alliance Party has formed a coalition with Fiji's oldest political party, the National Federation Party.
Fiji has a proportional representation system, where there is a single constituency.
Shailendra Singh, a political commentator and associate professor of Pacific journalism at the University of South Pacific in Fiji, said the voter turnout was the lowest since Fiji's constitution was reformed in 2013. The rising cost of living and the economy were major issues for voters, he said.
Bainimarama's Fiji First supporters campaigned on stability and progress, while the opposition said national debt was too high and questioned the state of democracy, he said.
"Critics of Fiji First feel that this one party has been in power for too long and maybe its time for a change," Singh told Reuters in a telephone interview.
Concerns expressed by opposition parties and civil society groups about media self-censorship caused by a punitive media law continued at this election, he said.
"The nature of democracy has been under question for some time – not all democracies are perfect and Fiji is trying, this is part of Fiji's journey of moving to a more democratic system," Singh said.
Fiji's government has rejected criticism by opposition parties about the media law.
A multinational observer group led by Australia, India and Indonesia includes 90 election observers who are also monitoring the national vote counting centre.
SOURCE: FBC NEWS/PACNEWS/REUTERS