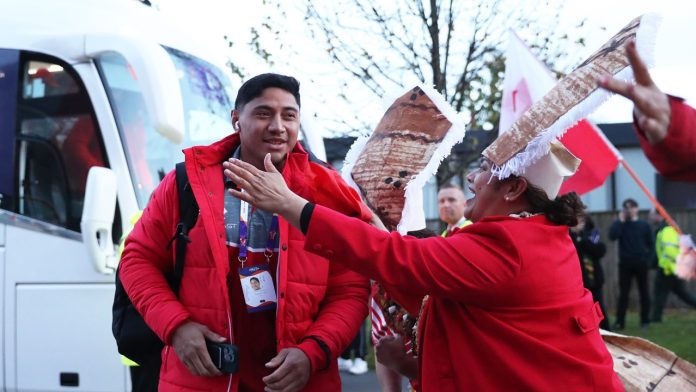 With enforcer Jason Taumalolo due back from suspension and injured pair Moses Suli and Isaiya Katoa also on the cusp of a return, Tonga coach Kristian Woolf is confident his team has their best football ahead of them as the World Cup heats up.
After overcoming a sluggish opening to overpower Wales 32-6 at St Helens on Tuesday, Tonga will look to build more momentum against Cook Islands in round three before a likely quarter-final showdown with Samoa.
Having missed the warm-up game against France and the opening two World Cup games courtesy of a shoulder charge ban incurred in the Cowboys' preliminary final loss to the Eels, Taumalolo will be champing at the bit to help his nation go one better than 2017, when they bowed out in an epic semi-final against England.
Hard-running centre Suli and flashy playmaker Katoa were both hurt during the first-up win over the Kumuls but Woolf is hopeful the pair can play a part in Middlesbrough next week against Tony Iro's Kukis.
"Moses will more than likely be available and Isy Katoa should also be available for our next game," Woolf said.
"Ideally we'd love to play Will Hopoate and Siliva Havili back next week as well but if they're not quite right we're not going to take a risk because they're really key players for us.
"They're both blokes who could come into a quarter-final and make an impact straight away because they're important players for us.
"We are still trying to figure out what our best combinations are and to know how each other play but we are headed in the right direction.
"There's plenty of things we'd love to get to straight away but we don't want to be playing our best in our second game of the tournament, we want to be playing our best in our fourth and fifth game.
"We've earned that opportunity now and we'll be better again next week."
On the back of some ill-discipline and skill errors, Tonga found themselves trailing 6-0 after 20 minutes at St Helens, but they slowly found their groove and took control thanks to the power of Addin Fonua-Blake and David Fifita and the poise of Tui Loloehea and Tesi Niu.
"We probably left a large number of points out there if you look at the number of opportunities we created but didn't quite nail those at the end, so there's plenty of improvement for us," Woolf said.
"I thought overall our defence was good and we didn't really look threatened too many times and that's a good sign for our defence.
"It's hard sometimes when blokes look at the opposition team sheet and wouldn't recognise too many names there – it's a little bit harder to get yourself up than when you're playing a team that you know everyone you are playing against."
Skipper Sio Siua Taukeiaho admitted his side may have taken Wales "a bit light" in the first half before executing their game plan better in the second term to stretch the margin to 26 points.
"There's still a lot to improve, especially in our attack. We started off slow in the first half and gave the ball away a few times," he said.
"The way PNG and Wales have played against us, they certainly lifted, but I feel like we are a lot better than the way we played tonight.
"We've got another tough game next week but I feel like we're still improving but when we get to the finals that's where we want to play our best footy.
"We don't mind who we play in the quarter-finals but Tonga and Samoa is what most people would like to see, who goes through the semi-finals."
Roosters winger Daniel Tupou, who collected player of the match honours for his hat-trick of tries, paid tribute to his inside men for doing all the hard work to set him up and also to the passionate Tongan fans who packed into Totally Wicked Stadium.
"We have really passionate fans around the world and a massive fan base here," he said.
"It showed before the game how passionate they were by holding up the team bus even though we were a couple of minutes late."
Woolf was also keen to praise the fans, saying it was "outstanding to see the number of people who have made the effort to come from the USA and New Zealand and Australia".
"That shows real commitment to come over here and show that support and it's not lost on any of us," he said.
SOURCE: NRL/PACNEWS