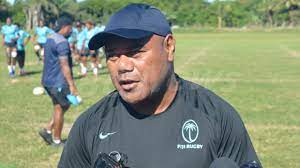 Fijiana 15s Coach Senirusi Seruvakula says he would love to stay on as head coach.
Seruvakula's contract came to an end Mondayfollowing their outing at the women's Rugby World Cup in New Zealand.
He said if he is given an opportunity to be at the helm again, he would take it.
"If I retain my coaching staff I would love to stay on because I'd love to defend the Super W and get through the young girls in the next two years."
Seruvakula highlighted that players should also be contracted in order for them to be able to compete with the top five nations.
He said this is something the Fiji Rugby Union should seriously look into for the betterment of women's rugby.
The Fijiana 15s rugby side is back home after their outing at the World Cup.
Family, friends, and fans gathered at Nadi International Airport to greet the team as they returned from their first RWC tournament.
Coach Senirusi Seruvakula says he is proud of their performance, especially as they took on teams who were ranked higher than them.
The side lost two games against number one ranked England and fourth placed France, but recorded a win against South Africa.
Fijiana finished ninth at the Rugby World Cup after coming in as a newcomer and as the 21st-ranked team in the tournament.
Seruvakula says the team has done the hard yards and they have given their best shot against more experienced sides.
SOURCE: FBC SPORTS/PACNEWS