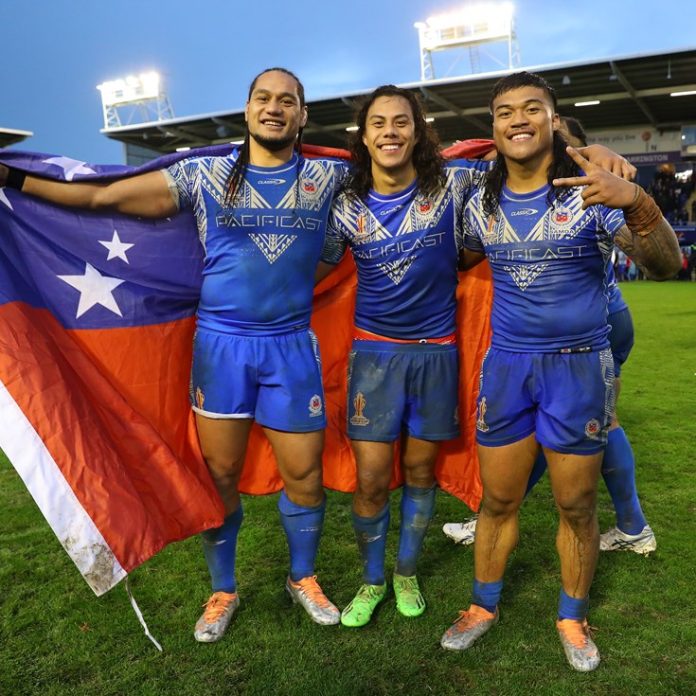 Coach Matt Parish is taking Samoa's shot at redemption against England as an opportunity for his side to be remembered for their last game not their first.
After a 20-18 triumph over Pacific rivals, Tonga, Samoa's World Cup campaign will come full circle on Sunday when they meet with the side that put any belief Samoa could compete with the top sides this year on hold.
England beat a shell-shocked Samoa 60-6 in the opening game of the tournament but after big wins over Greece, France and now their ancient rivals Tonga, Parish is confident his star-studded side has overcome the ghosts of the past.
"This tournament was never about the first game, it's about the last game," Parish told the media following Samoa's win over Tonga.
"We were never going to be at our best, it was always about building through the tournament.
Eighty minutes now sits between the Pacific Island nation and a maiden World Cup final appearance, but with England heading into the semi-final off the back of a 46-6 demolition win over Papua New Guinea, Parish knows his side face no easy feat.
"They're the home nation, they're down to the last four and have won all of their games pretty convincingly," he said.
"To be fair I've only watched one game and it was the first one and they were pretty good."
The quarter-final performance of 19-year-old Joseph Suaali'i will no doubt have England worried ahead of Sunday with the Roosters winger finding his form on the international stage after a quiet game against the hosts in Round 1.
Finishing his 80-minute performance against Tonga with an incredible 10 tackle breaks, 231 running metres, five tackle busts and a linebreak that set up the match winning try – Suaalii proved the difference between the two proud Pacific nations on Monday.
"His performance was unbelievable for a 19-year-old kid," Parish said.
"He's been unbelievable for our group. For a young man he's been well educated, well-schooled, he's professional and I think he's certainly enjoying the ride at the moment.
"He's got a long career ahead of him which is going to be exciting to watch and to think he's been part of this.
"He could have played for Australia but he committed to Samoa like a lot of young men which is very pleasing."
As Tonga's campaign came to a disappointing end on Monday, coach Kristian Woolf also credited Suaalii's impact in the historical quarter-final.
"He ran through us in the second half, we needed to be a lot better there," he said.
"He's obviously a good player, he's a big, powerful athlete.
"He had a real impact today and we needed to be better on him in terms of how we handled him but full credit to him and full credit to Samoa… guys like him really stood up in a big game like today.".
SOURCE: NRL/PACNEWS