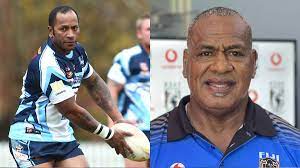 Former Fijian star Wise Kativerata has flown to England to take charge of an injury-hit Bati side ahead of their opening World Cup match against Australia after coach Joe Rabele was hospitalised.
Kativerata will work alongside his former Parramatta Eels team-mate James Webster and ex-Leeds and Toronto Wolfpack mentor Brian McDermott, while a decision is made on whether Rabele can resume his role.
The Bati coach is understood to have fallen ill soon after the team's arrival in England for the World Cup and McDermott was in charge for last weekend's warm-up match, won 50-0 by England.
However, Kativerata attended the World Cup launch with Fiji captain Kevin Naiqama and said he would be calling the shots against the Kangaroos after Rabele asked him to join the camp last week.
"Joe is not well, but life goes on. The job must be done," Kativerata said. "Joe Rabele has been feeling sick and they asked me to come in and do his role. I will take charge on Saturday, with Brian and the boys.
"If Joe comes back, we don't know. That doesn't change the way Kevin and the boys will prepare themselves. They are professional footballers. They get paid to play football."
The Bati have also been calling in reinforcements for their playing squad after losing St George Illawarra winger Mikaele Ravalawa, Manly's Pio Seci and Redcliffe's Joseph Ratuvakacereivalu.
Seci and Ratuvakacereivalu were injured in the warm-up match, while Ravalawa travelled to England with the squad but failed to overcome a hamstring injury that plagued him towards the end of the NRL season and is returning home.
"We have had a few knocks," Kativerata said. "But we have got a good side, so we will just focus on ourselves and when we play Australia on Saturday we will see.
"Rugby league is a simple sport, you keep the ball, you kick long, you force them to make mistakes and when you get the opportunity you score."
The Bati will be bolstered by the inclusion of Penrith hooker Api Koroisau, strike second-rower Viliame Kikua and star Parramatta winger Maika Sivo, while Kativerata said Canterbury halfback Brandon Wakeham would play.
Kativerata has a close relationship with many of the Bati players and recruited Kikau, Canberra centre Semi Valamei and former Eels winger Semi Radrada from Fiji.
"I live in Sydney and Joe Rabele asked me to come along and be his assistant," he said.
"I left Fiji back in 1995 to join the Bulldogs. I have played for St George, South Sydney, I went to rugby union with Michael Cheika and I went back to rugby league with the Parramatta Eels.
"In my role I recruit all the Fiji boys, from [former Storm winger] Sisa Waqa to Viliame Kikau, I found all of those boys.
"We are unique because of all the players playing NRL are from Fiji, whereas Tonga and Samoa are from New Zealand and Australia so we are the only [Pacific] nation who develops our own players.".
Meanwhile, NRL Grand Final referee Ashley Klein will control the opening World Cup match between England and Samoa in Newcastle, while leading Super League referee Chris Kendall has been given charge of the Australia-Fiji game in Leeds.
The two fixtures will be played on Saturday, with the host nation, England, facing a star-studded Samoa outfit at St James Park at 2.30pm and the 2017 World Cup winners Australia meeting Fiji at Headingley Stadium at 7.30pm.
Klein, who is refereeing at his fourth World Cup, was appointed to the opening game and will bring plenty of big match experience after being in charge of this season's three State of Origins and the NRL grand final.
Super League grand final referee Liam Moore will control Tuesday's Tonga-Papua New Guinea match at St Helens, while Kendall will have charge of Saturday's match between the Kangaroos and Bati in Leeds.
The pair were involved in the 2017 World Cup before making their Super League debuts and are now considered among the game's leading match officials.
Moore refereed the past two Super League grand finals, while Kendall was in charge of the 2019 and 2020 deciders.
NRL referee Grant Atkins has been appointed to the New Zealand-Lebanon match at Warrington, while Gerrard Sutton will control Scotland and Italy in Newcastle and Adam Gee has been given charge of the France-Greece fixture in Doncaster.
French referee Ben Casty will control the Jamaica-Ireland match in Leeds on Sunday, while Englishman Robert Hicks has been appointed to the final game of the opening between Wales and Cook Islands at Leigh on Wednesday.
RLWC2021 Lead Match Officials Coach Jared Maxwell, who is NRL GM of Elite Officiating, said the game's top referees would be officiating at the World Cup.
"We have got the best international referees on offer from both the Northern and Southern Hemispheres, and they are coming together this weekend," Maxwell said.
"That should provide the best environment for the players and while there are obviously different levels of experiences, all teams at the World Cup should have the utmost confidence in the match officials who have been appointed."
There are three female referees in the squad, with Kasey Badger, Belinda Sharpe and Rochelle Tamarua set to officiate across the men's and women's World Cup fixtures.
Badger will be a touch judge in the France-Greece match, Sharpe will run the line in the Tonga-Papua New Guinea match and Tamarua has been appointed to the Wales-Cook Islands fixture, along with NRL referee Todd Smith.
Australian referees Darian Furner and Wyatt Raymond are yet to make their NRL debuts but RLWC2021 Match Officials Manager Steve Ganson said Kendall and Moore were examples of how the World Cup could benefit them.
"They were involved in the World Cup in 2017, in touch judging and different roles, and they gained massively from that experience and spending time with the top international referees," said Ganson, who is RFL Head of Match Officials.
Maxwell said: "We have some referees who haven't done an NRL game yet but I am going to get the benefits in the NRL system from what they learn here and having the experience of international referees around them".
Ganson said Casty, who officiates in Super League matches in France, and the two New Zealand match officials – Tamarua and Paki Parkinson – would also benefit from the experience.
SOURCE: NRL/PACNEWS