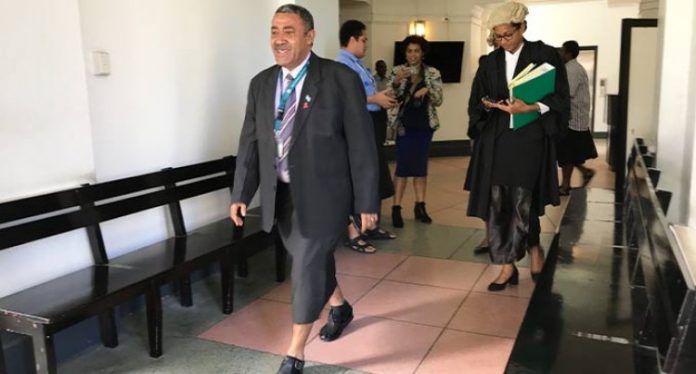 Former Fiji's Opposition MP and Namosi province paramount Ratu Suliano Matanitobua has been sentenced to 36 months imprisonment by the Anti-Corruption Division of the High Court in Suva.
Justice Thushara Kumarage delivered his sentence to a courtroom packed with his people and supporters.
Ratu Suliano was sentenced to 36 months with 10 months suspended, and for the remaining 26 months, he has to serve 20 months before parole can be considered.
Meanwhile, an emotional scene at the Government Buildings courthouse vicinity as Ratu Suliano was driven off following his sentencing in a packed courtroom in Suva today.
Ratu Suliano was sentenced to three years, 10 months of which were suspended for five years.
Police officers had to close off the entry into high court as supporters including close family and friends and a handful of political party figures including Fiji Labour Party Mahendra Chaudhry spilled into the courthouse's foyer which was also littered with police officers.
Ratu Suliano did not react as he was sentenced and stayed behind as close friends and family exited the courtroom in tears.
The women openly wept as the vehicle carrying Ratu Suliano drove off.
His sentencing comes more than a month after he was convicted of obtaining more than $38,000 (US$19,000) between August 2019 and April 2020 in parliamentary allowances that the prosecution contended he was not entitled to.
His conviction has since cost him his seat in the Fijian Parliament and the chance to contest the forthcoming 2022 election.
Ratu Suliano is the second, of six SODELPA MPs convicted and sentenced for the same offenses relating to alleged breaches of the Parliamentary Remuneration Act of 2014, following Niko Nawaikula who was convicted and sentenced in May. Nawaikula was also handed a three-year sentence of which one year was suspended for five years.
Under the PRA 2014, members of parliament are eligible to receive a traveling allowance if their permanent place of residence is located more than 30km from the place of the meeting of parliament or committee.
SOURCE: FIJI TIMES/MAI TV/PACNEWS