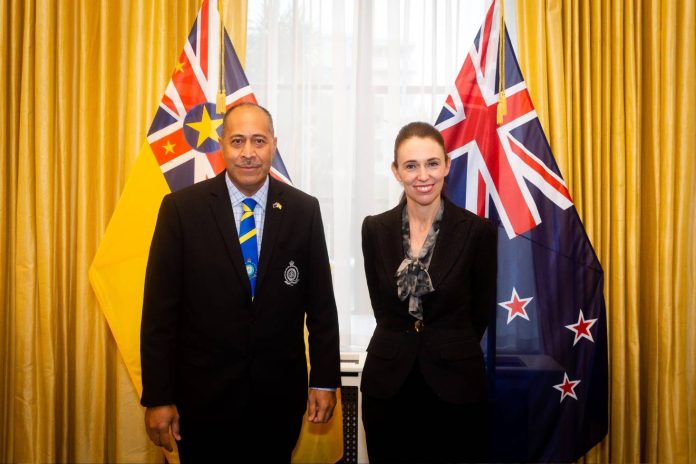 Niue Premier Dalton Tagelagi will meet Prime Minister Jacinda Ardern in Wellington, and the pair are set to sign a renewed partnership agreement.
Tagelagi will meet with Ardern, Foreign Minister Nanaia Mahuta and Pacific Peoples Minister Aupito William Sio Thursday.
Ardern said the key issues for the Pacific region would be discussed: climate change, post-pandemic economic recovery, and global supply chain constraints.
"The signing of a refreshed statement of partnership between Niue and Aotearoa New Zealand reflects the deep cooperation and connection between our two countries, and our shared understanding of issues facing our region," she said, in a statement.
Niue, a Pacific Island nation of around 1,700 people between Tonga and Cook Islands, is part of New Zealand's realm, meaning the Government provides the country with aid and assistance running its affairs, and Niue's citizens are New Zealand citizens.
Tagelagi met with China's Foreign Minister Wang Yi, virtually, in May as part of Wang's major diplomatic bid in the Pacific. According to China's foreign ministry, the pair agreed to increase policy talks and co-operation on infrastructure and development, among other matters.
In 2018, the Government was reportedly "blindsided" by Niue signing up to China's belt-and-road initiative, a major Chinese programme of infrastructure building. New Zealand also signed to the Chinese initiative in 2017, but nothing has come of this.
In 2019, Niue and New Zealand signed a strategic partnership agreement that promised greater co-operation on issued including Niue's prosperity, response to climate change, and peace and security.
Some 30,000 Niuens live in New Zealand, and trade between the countries was $17.6 million(US$10.9 million) before the Covid-19 pandemic. Of this, $17.2m (US$10.6 million) was Niue importing fuel, food, and other goods from New Zealand.
Tourism is a major economic driver for Niue, earning the country $15m(US$9.3 million) in 2018/19. Niue opened its borders for tourism in June.
Ardern said Niue was one of New Zealand's closest partners.
"Our ties have deepened in recent years while Niue's borders have been closed due to Covid-19. Niue has one of the highest levels of vaccination in the world, and we have worked closely with them to achieve that, as well as offering economic support while tourism has been shut."
A Niuen premier, Sir Toke Talagi, most recently visited New Zealand in 2019, according to information published by the Ministry of Foreign Affairs and Trade. Ardern last visited Niue in 2018.
SOURCE: STUFF NZ/PACNEWS