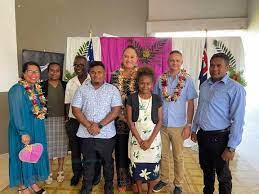 Just over $20 million (US$12.37 million) will go towards projects in the Solomon Islands that will help tackle climate change, support local youth and improve facilities for the upcoming Pacific Games.
Deputy Prime Minister Carmel Sepuloni is leading a Pacific Mission in the region this week; visiting the Solomon Islands, Fiji and Tonga in the first mission of its kind since the Covid-19 pandemic.
On the delegation's first stop, in the Solomons, Sepuloni and Minister for Climate Change James Shaw announced $15 million(US$9.28 million) of climate finance would go into the existing Solomon Islands Provincial Capacity Development Fund.
The monetary boost is to help develop and improve local communities' climate adaptation plans and projects.
Speaking in the country's capital city of Honiara, Sepuloni described the threat of climate change as a "global challenge" that therefore required a global and collective action.
"That's why we're stepping up to provide climate finance to support provincial governments to build climate resilience at the grassroots."
She said the heart of this week's Pacific Mission was the importance of supporting local and indigenous-led solutions to support effective climate action.
"We've listened to Pacific leaders and they've told us they want their people to live in their countries for as long as possible – and to retain their social and cultural identity."
Shaw pointed out that the Solomon Islanders live in rural and low-lying coastal areas where provincial governments, community groups and churches deliver essential services.
"These communities are among those on the frontline of the climate crisis, but are those who have contributed the least to climate change," he said.
As well as climate change funding, the Government also announced a total of $3 million (US$1.88 million) to go towards helping to make the 2023 Pacific Games more accessible and inclusive for those people with disabilities.
The funding will go towards upgrades required to make the facilities and venues accessible for people with disabilities – athletes and spectators alike.
The Solomon Islands will host this year's tournament in November and is tipped to be a huge event for the region, post-pandemic.
The last time the Games was held was in 2019, in Samoa. New Zealand is also a part of the tournament.
Sepuloni said New Zealand shared a long-standing partnership across a broad range of areas with the Solomon Islands.
"This support builds on and complements our partnership as Pacific whānau and will help make the 2023 Pacific Games both accessible and inclusive – including for disabled people.
"I'm excited not only for Solomon Islands, but for Pacific sport, that the Pacific Games will take place here with 5000 participants from 24 countries competing in 25 sports.
"What a wonderful celebration this will be of sport and culture."
Some of the money will also be used to purchase sporting equipment.
The last funding announcement was $2.4 million(US$1.4 million)to go towards supporting youth in the Solomon Islands who are not in education, employment or training.
In one of her first big announcements in the new role, Minister for Pacific Peoples Barbara Edmonds said the funding will help support the development and delivery of programmes and courses in the Solomons, as well as in Tonga.
Edmonds confirmed the money will be invested in a newly formed regional Pacific Youth Engagement, Empowerment and Economic Pathways programme.
The Solomon Islands has a population of just over 700,000 people, according to figures in 2021.
About 70 percent of that population are people under the age of 35.
"This is why having access to vocational, literacy and numeracy skills – and harnessing the potential of young people as the region's future problem-solvers, leaders and innovators – will be essential for a more stable, resilient and inclusive Solomon Islands," Edmonds said.
"Our children and young people, with the right skills and pathways, can one day give voice to and help tackle issues and challenges like climate change confronting their home countries.
"All young people have potential to contribute to society and are critical voices to inform and influence solutions."
The Pacific Mission is now headed to Fiji before travelling to Tonga. The delegation returns to New Zealand on Friday.
SOURCE: NZ HERALD/PACNEWS