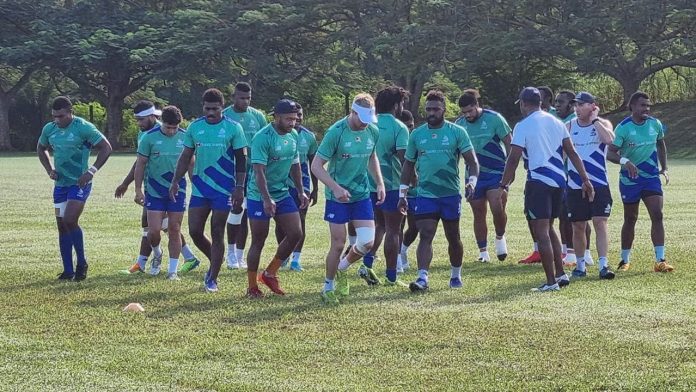 Fijian Drua will be based in Fiji next season.
However, where exactly is not confirmed at the moment.
The Drua were based at the New South Wales Sport and Recreation center in Lennox Head, Australia this year.
Head Coach Mick Byrne said the Fiji based players are back home for good.
He said everything will be confirmed in a few weeks.
Players will have a four weeks break before attending daily training exercises at their respective Fiji Rugby Union High Performance centers in Suva, Sigatoka and Nadi.
Byrne has also confirmed that number eight Te Ahiwaru played his last game of the season against Moana Pasifika two weeks ago.
The Drua Coach said the man they call 'Big T' is unavailable for selection against the Chiefs.
"Unfortunately Big T is carrying a couple of symptoms from his head knock and you know we have to look after our players, health is number one and he tried to train yesterday in the gym and felt a bit of pressure in his head so he's out for the moment, so with those symptoms I'd find it hard for him to be available this week."
Captain Nemani Nagusa and Kitione Ratu are sick and are being monitored.
Meanwhile, keeping the ball in play is something the Swire Shipping Fijian Drua will need to look at in the future.
Head Coach Mick Byrne is confident after collecting all the stats this season, Drua will hit or be thereabouts in terms of ball in play minutes.
With a game left for the season, the Drua on average have around 30 minutes of actual playing time out of the 80.
However, in some games, the side managed to hit 17 or 18 minutes ball in play time.
Byrne said hanging on to the ball is something they'll definitely need to improve next year.
"Well I think most of the international standards are in 34, 35 minutes. We won't be much different. Super Rugby tends to have more ball in play time than the overseas northern hemisphere side. We should be alright, we'll work through that process and across the board we should be somewhere in the mid-30s."
One player in particular that's good at keeping the ball alive is Kalaveti Ravouvou.
Ravouvou said the Chiefs are one of the best in the business.
"The Chiefs are a good team because they have some All Blacks in the squad, they'll give us a good game, however, we are also preparing well for this last game"
The Drua takes on the Chiefs at 3pm on Saturday at Churchill Park in Lautoka.
SOURCE: FBC SPORTS/PACNEWS