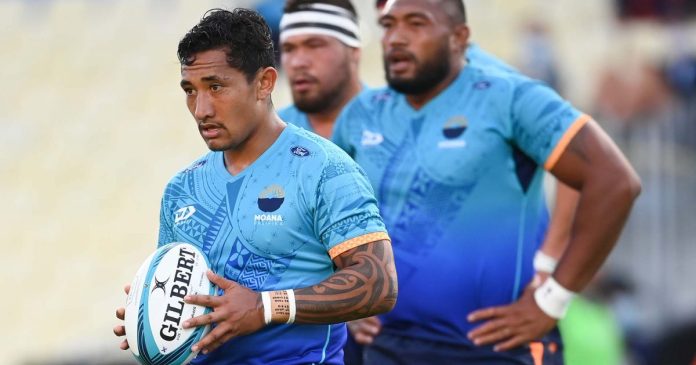 The Melbourne Rebels are preparing for a physical encounter with Moana Pasifika, looking to keep their finals dream alive.
The Rebels enter Saturday's clash with the Super Rugby newcomers eager to avenge Sunday's crushing defeat to the Crusaders as part of Super Round.
Catch every game of the 2022 Super Rugby Pacific season on Stan Sport. Start your Free Sport Trial Now
Whilst they were only down four at the break, Rebels assistant coach Geoff Parling concedes they gifted the wayward Aotearoa champions far too many chances throughout the game, punished in the second half.
"We're disappointed with that result…even in the first half we gave them opportunities and they didn't finish," a honest Parling said.
"We went in down 7-3 in a good position so we knew we had to tighten things up, we had too many turnovers and if you keep giving a quality team like the Crusaders chances and they're not firing, they will (eventually) take them.
"We thought we showed good fight, especially in our scramble defence, but we can't allow that line breaks, first phase turnovers if we want to compete with these teams."
They face a Pasifika side hungry for game time after yet another cancellation, following numerous COVID cases and injuries leaving the Western Force unable to suit up 23 players last week.
"They are a physical team so probably a big focus for us is to stick to our processes for a good length of time, not going away from what we do," Parling believes. "Everything we do is about sticking to the processes and being disciplined in what we do.
"We can't give them (an) opportunity because we know they have some dangerous players, they are a physical team that can hurt teams so that's the main message.
"(They are) pretty similar to the Drua," prop Cabous Eloff noted.
"They are very unpredictable in what their next move is and you always need to be on the front foot to know what's coming next."
The Rebels get a timely return with Pone Fa'amausili returning from a calf injury, which has hampered him since Wallabies camp last year.
Fa'amausili is the second in of the 'Big Three' returning from injury, with Rob Leota coming back last week and Trevor Hosea likely a fortnight away.
"It's great to have him back," Parling added.
"For the team, it's a boost just having good players come back into the squad regardless of whether they have been out for a week, a year or five years.
"We had Robbie (Leota) come back last week and that was definitely a boost, he'll be better for the game time, same with Pone. The more we can get these good players back involved with the squad, it's obviously only going to be good for us.".
SOURCE:RUGBY.COM.AU/PACNEWS