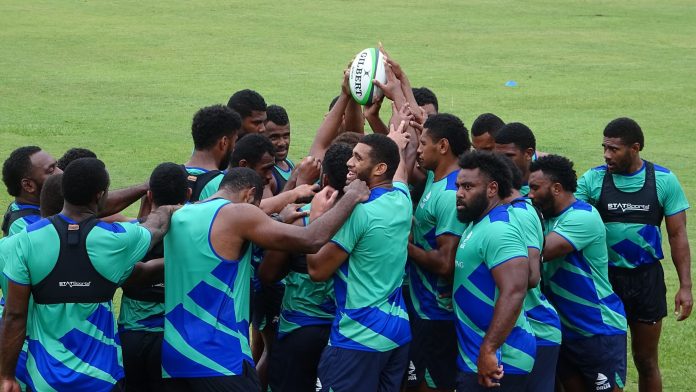 Fijian Drua Head Coach Mick Byrne has announced his line-up for the historic first homecoming match at ANZ Stadium Suva, as the men from Fiji take on the Highlanders from New Zealand.
It's the first time in six months for majority of the players to return home for a chance to play in front of family and fans in the Fijian capital.
Haereiti Hetet (1) links up with Flying Fijians Mesulame Dolokoto (2) and Manasa Saulo (3) in the front row, while Viliame Rarasea (4) and Ratu Rotuisolia (5) man the lock positions. In the backrow, Captain Meli Derenalagi (6) leads a dynamic trio with Vilive Miramira (7) and Te Ahiwaru Cirikidaveta (8) as the number 8 loose forward.
The halves pairing sees Frank Lomani (9) at halfback and Teti Tela (10) at flyhalf. The powerful centre combination of Kalaveti Ravouvou (12) and Apisalome Vota (13) reunite for this match. Vinaya Habosi (11) and Selestino Ravutaumada (14) are on the wings, while Kitione Taliga (15) is at fullback.
Providing impact off the bench this week are Tevita Ikanivere (16), Meli Tuni (17) and Samuela Tawake (18). Isoa Nasilasila (19) and Joseva Tamani (20) round out the substitute forward pack. The backline impact players off the bench are Simione Kuruvoli (21), Onisi Ratave (22) and Kitione Ratu (23).
Coach Byrne said: "It's so exciting for us to be playing our first ever match on home soil. We're looking forward to playing in front of our fans. The boys understand the importance of a good performance in front of their home crowd. It's also our second hit-out against a New Zealand team so we expect it to be a fast and physical clash. We've geared up for that and we're really looking forward to putting a performance out on the park that our fans will be proud of."
 Fijian Drua
Haereiti Hetet, Mesulame Dolokoto, Manasa Saulo, Viliame Rarasea, Ratu Rotuisolia, Meli Derenalagi (c), Vilive Miramira, Te Ahiwaru Cirikidaveta, Frank Lomani, Teti Tela, Vinaya Habosi, Kalaveti Ravouvou
Apisalome Vota, Selestino Ravutaumada, Kitione Taliga, Tevita Ikanivere, Meli Tuni, Samuela Tawake
Isoa Nasilasila, Joseva Tamani, Simione Kuruvoli, Onisi Ratave, Kitione Ratu.
Meanwhile, the Fijian Government has committed $3 million (US$1.5 million) to Counter Ruck Pte Limited (CRL) which was established by the Fiji Rugby Union to own and operate the Swire Shipping Fijian Drua.
This follows the signing of the Deed of Understanding between the Attorney-General and Minister for Economy, Aiyaz Sayed-Khaiyum, the Chairman of Fiji Rugby Union, Commodore Humphrey Tawake, and CRL Board Director John O'Connor with the Chief Executive Officer of the Fijian Drua Brian Thorburn also in attendance.
The A-G highlighted that the Fijian Government is pleased to sign the Deed of Understanding ('Deed') which aims to establish and strengthen co-operation between the Fijian Government and CRL, allowing them to work together on the ownership of shares.
He further explained that through the Deed, the Fijian Government is now paying $3 million (US$1.5 million) to CRL for a 25.5% ownership stake in the company, with an additional $3 million (US$1.5 million) to be paid by December 2022 to achieve 51% ownership.
Additionally, CRL has been granted a 13-year income tax holiday and will be provided a waiver for customs duty on goods imported specifically for Fijian Drua-related venues and High Performance Base from 1 July 2022 to 30 June 2023.
Any sponsorship above $250,000 (US$125,000) made to the Fijian Drua will receive a 200 percent income tax deduction.
Fiji Navy Commander and Fiji Rugby Union chairman Humphrey Tawake highlighted that the Fijian Government's financial commitment further strengthens the Fijian Drua in assessing the necessary high-performance requirements in order to succeed as a team.
Fijian Drua CEO, Brian Thorburn, thanked the Fijian Government for its support towards the Fijian Drua Super Rugby team and is confident that the Government investment in CRL will improve financial stability and ultimately boost the performances of the Fijian Drua Super Rugby team.
SOURCE: FIJI TIMES/FIJI GOVT/PACNEWS