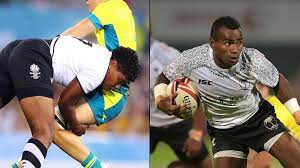 World Rugby Men's 7s player of the Decade Jerry Tuwai and Fijiana 7s captain Rusila Nagasau will be Fiji's flag bearers at the Tokyo Olympic Games in Japan.
This is yet another milestone for Fiji's most successful 7s player Tuwai.
The 2019 World Rugby 7s Player of the Year made his debut for Fiji at the 2014 Gold Coast Sevens and has gone on to win three World Series titles, an Olympic Gold medal in 2016, and is a three-time World Rugby Sevens Player of the Year nominee.
Tuwai is the only Fijian player to have played in five successive Hong Kong 7s wins as well as being a two-times Series winner in 2015 & 2019, and a Commonwealth Games Silver medallist.
Nagasau has been on the sporting scene since 2003 with football and later on switched codes to Rugby in 2007.
She was instrumental in Fiji qualifying for the 2016 Olympics when she scored four tries in the 2015 Oceania Women's Sevens Championship against Samoa in the final.
FASANOC in a statement says Nagadau is a very disciplined player, on and off the field and her fitness, commitment and experience is second to none.
For the first time Team Fiji also has a 50/50 split in male and female athletes for Tokyo 2020.
The Olympics are set to open on July 23 under heavy restrictions because of the COVID-19 pandemic.
Meanwhile, Fiji Association of Sports and National Olympic Committee (FASANOC) has announced that Vodafone Fiji Pte Limited (Vodafone) has joined FASANOC's partner programme.
The announcement was made by FASANOC CEO Lorraine Mar and Vodafone's Regional Chief Executive Officer, Pradeep Lal in Suva.
Vodafone has signed an agreement through to 2024, and will become an Official Partner of FASANOC. The sponsorship agreement includes: Cash and product support as the official Telecommunication and ICT partner.
Vodafone Fiji Pte Limited, is 100% locally owned Mobile Telecommunications Company and a subsidiary of Amalgamated Telecom Holdings (ATH), is Fiji's largest Telecommunications and Data services provider.
As an official partner, Vodafone will partner with Team Fiji for the upcoming Tokyo 2020 Olympic Games, the 2022 Commonwealth Games, the 2023 Pacific Games and the 2024 Paris Olympic Games.
Vodafone will supply telecommunications related services to support Team Fiji in the lead up to and during the various Games. Sports globally have embraced technology to supplement the work of coaches and technical advisors to enhance athlete's performance through data and science. Technology such as Coaches Eye will become key to develop new techniques, skills and strategies in future. This partnership is key to further enhance the use of technology in sports in the country.
This is a continuation of Vodafone's partnership from the 2016 Rio Olympic Games where Fiji won its first ever Olympic Gold Medal with the Fiji 7's team. FASANOC in partnership with Vodafone had planned some attractive marketing campaigns and prizes as a build up to Tokyo 2020. However, these had to be shelved in light of the second wave of COVID-19 pandemic currently affecting Fiji.
FASANOC CEO Lorraine Mar said "This partnership comes at a time when we most need it. Given the current subdued business environment, it's challenging to find corporate sponsors. We therefore highly appreciate Vodafone for their valued support to Team Fiji for the Olympics. This support allows our athletes and officials to fulfill their dreams of representing their country at the pinnacle of sports. We are excited about the long-term commitment even at this difficult hour which is a testament to their genuine commitment and belief in the role that sports play in shaping our future leaders and patriotic citizens."
Commenting on Vodafone's sponsorship, Pradeep Lal, Vodafone's Regional CEO said, "We are very honored to support Team Fiji to Tokyo 2020 at this time when our country is going through one of the most challenging phases in our history. Sports has always been a uniting force in the country. We hope for the sake of our nation, we all unite in solidarity and take the COVID vaccine as soon as possible so that our sporting men and women and the fans can begin to enjoy sports as their used to do so. The vivid memories of Fiji's first ever gold medal win at Rio Olympics and the celebrations that followed still lives on today. It is a reminder that our small island nation can punch above its weight on the world stage to be the best. Our best wishes are with Fiji 7's team to defend their gold medal and for all athletes to do their best. We take this opportunity to wish Team Fiji the best of luck from Team Vodafone..
SOURCE: FBC SPORTS/FASANOC/PACNEWS