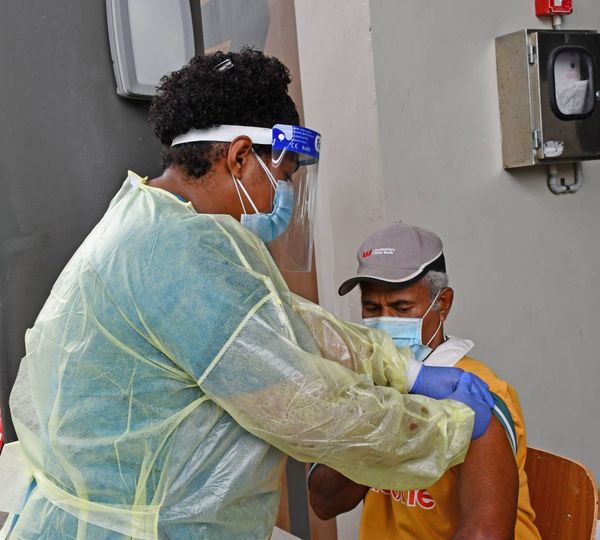 More than 70 per cent of COVID-19 deaths in Fiji have been recorded for iTaukei persons.
This was highlighted by Fiji Institute of Pacific Health Research Director Dr Donald Wilson during a webinar on Monday.
He said recent statistics showed that 20 indigenous Fijians had died from the delta variant.
Dr Wilson said it was sad to see there was an increasing number of deaths from COVID-19 in the past few days.
He said it was imperative for people to get vaccinated to avoid hospitalisation, given the rapidly increasing cases.
"Looking at the statistics from the weekend, 28 people had died of coronavirus, of this 20 indigenous Fijians have died from the delta variant," he said.
"This means that more than 70 per cent of indigenous Fijians have died from coronavirus in the country in the last few days.
"To avoid putting your family at risk, it is important for everyone to be vaccinated and adhere to the coronavirus restrictions in place."
Health ministry permanent secretary Dr James Fong had said the ministry was seeing an increase in the number of people with severe disease presenting themselves at a very late stage.
"It remains a serious concern that some people with severe disease come to a medical facility only in the late stages of their illness," he said.
"We still sadly seeing people with severe disease die at home or on the way to hospital, before our medical teams have a chance to administer what could potentially be lifesaving treatment."
Lautoka Hospital pathologist Dr Virisila Ciri and Colonial War Memorial Hospital head of Gynaecology Dr Moape Bavou have said there have been no deaths directly linked to COVID-19 as of last week.
Both said all deaths at the hospitals had underlying causes that were aggravated by COVID-19.
Meanwhile, prepare for the worst, that's the advice former Health Minister Dr Neil Sharma as COVID-19 cases continue to mount and medical facilities face the threat of being overwhelmed.
He said Fijians should reduce meals to two a day, eat healthy and establish backyard gardens.
Dr Sharma suggested that where possible, people should stock up on non-perishable food items and take COVID-safe protocols very seriously.
He also warned against entertaining guests or relatives because of the risks associated with the virus.
Fiji is at the frontline of the battle against Covid-19 in the Pacific Islands as the nation faces its biggest challenge since the pandemic began and races to vaccinate its 900,000-strong population.
The tropical nation, whose tourism-dependent economy has already been smashed, posted a record 636 new cases and six deaths on Tuesday, according to Johns Hopkins University data. Fiji has now recorded more than 7,079 cases and 39 deaths.
The outbreak shows how many nations that had initial success in keeping Covid out of their local communities through border closures are now vulnerable, particularly as more virulent strains such as the delta variant spread. Some of the nations in the Pacific Islands — whose cumulative population of around 13 million people is sprawled over thousands of islands and atolls — are this year seeing their first waves of the virus.
"It just shows us how fragile the Covid-free situation can be" among Pacific Islands nations, Jonathan Pryke, who heads research on the region for Sydney-based think tank the Lowy Institute, said in an interview. Still, he described the fact that so far more than 55% of Fiji's adult population had received at least one vaccine dose as "a phenomenal achievement," considering the logistical constraints of the nation's rollout.
Still, the rising case numbers risk straining Fiji's healthcare system. On Monday, the health ministry posted a statement on its Facebook page advising that mortuary capacity at a hospital was full. A separate statement said medical services at another hospital had been suspended.
Some other nations in the Pacific region seem to have brought cases under control — at least for now.
Papua New Guinea, the region's most populous nation, has recorded no new cases in the past week, compared with weekly totals of more than 2,000 infections in late March. But that nation has an extremely low vaccination rate and is relying on jabs being delivered by nearby Australia and New Zealand, which are behind on their own rollouts.
Lowy Institute's Pryke said there was still concern for Papua New Guinea as the delta variant was extremely transmissible and "the risk has not subsided.
SOURCE: FIJI TIMES/BLOOMBER/PACNEWS