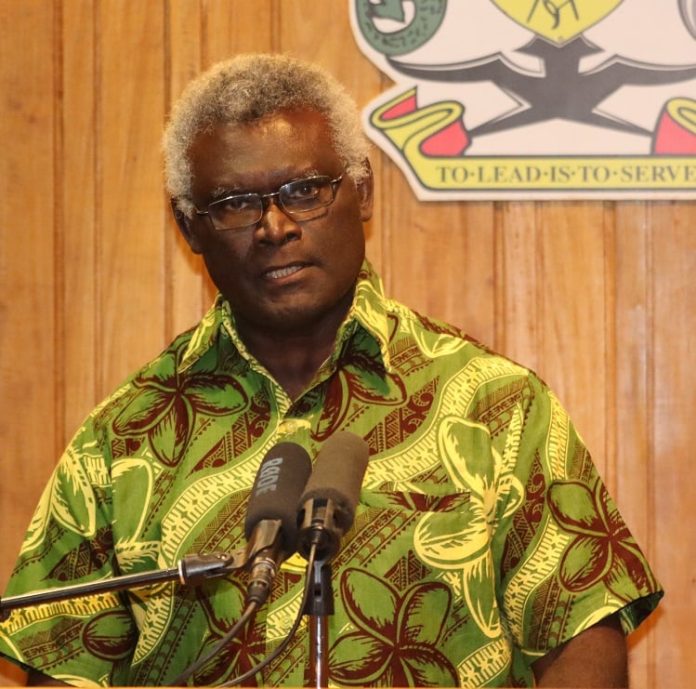 Solomon Islands Prime Minister Manasseh Sogavare says the government is fully intact.
In his third national address Sunday since the riots, Sogavare said he is sincerely grateful to his colleague MPs for their ongoing support and solidarity to stand for the principles of democracy despite the threats and intimidations.
"The intention is very clear and that is to put pressure on me to resign.
"It is very clear that the recent events were well planned and orchestrated to remove me as the Prime Minister for unsubstantiated reasons that have been distorted to misrepresent the facts.
"I want to assure the nation that the government (is) fully intact and nothing will move us.
"We must and will never bow down to the evil intentions of a few people.
"We must stand up to intimidation, bullying and violence.
"We owe this to our children and the majority of our people who cannot defend themselves," the Prime Minister said.
The Prime Minister also condemned the threats and intimidation that have been made against our leaders.
"Threats have been made on their lives and that of their families as well as against their properties.
"As you all may already know, my residence at Lungga was attacked and damaged. The life of my family was threatened. This was designed to pressure me into resigning and it was a message to my ministers that they will be next," Sogavare said.
However, he said the principles of democracy and the rule of law must always be protected.
"I was elected as your Prime Minister to be a steward and protector of these very principles, upon which our democracy is built on, and I will continue to defend it," the Prime Minister said.
Meanwhile, Prime Minister Manasseh Sogavare thanked people who cleaned Honiara city since Saturday and those who stood with police to protect the city.
Sogavare said such demonstration of civic duty and patriotism gave him comfort, hope and courage to continue the fight for democracy and the rule of law.
On Saturday local contractors volunteer and came out in force to clean the industrial site at Ranadi.
On Sundaycompanies, church groups and others also volunteered to start cleaning China Town.
Sogavare also pay tribute to communities throughout Honiara who have stood shoulder to shoulder with the Royal Solomon Islands Police Force (RSIPF) to protect Honiara.
"These are patriotic fellow Solomon Islanders who have had enough criminal activities.
"The silent majority of our people wants a peaceful and stable city and country.
"While the protests and ransacking was prevalent in the past few days, we also saw our people rallying behind our RSIPF to protect properties and lives.
"We had fellow Solomon Islanders working side by side with the RSIPF manning check points and roadblocks.
"I thank you for your courage and commitment," the Prime Minister said.
He also took the opportunity to thank the RSIPF for their sacrifice, commitment and courage in the face of insurmountable adversity.
"They could have resort to use the deadly and lethal force but they exercise great restraint, even in the face of clear and present danger to their lives.
"I thank you for your bravery and courage. You have my highest respect and undying gratitude and that of our people Solomon Islands."
The Prime Minister expressed his heartfelt gratitude and appreciation during his third national address.
SOURCE: SOLOMON STAR/PACNEWS