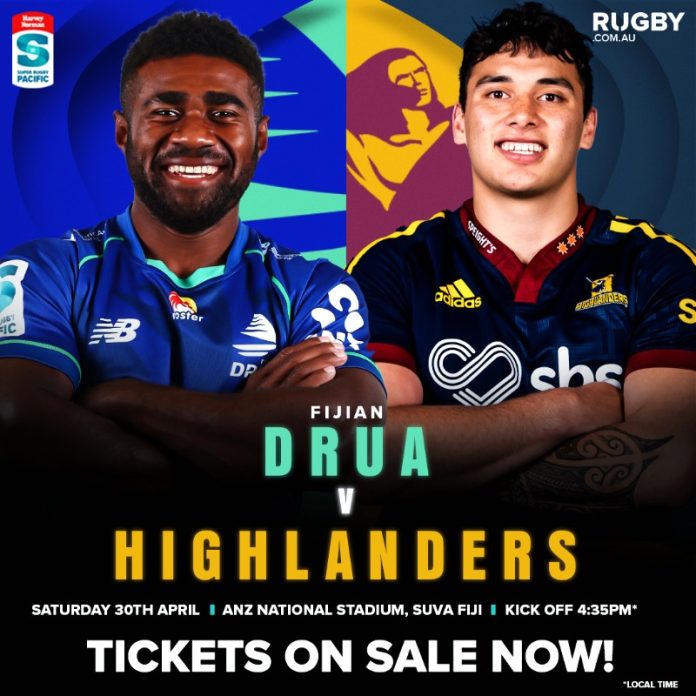 The Fijian Drua have sold less than 5000 tickets for their historic first home game in Super Rugby against the Highlanders on Saturday, and chief executive Brian Thorburn may decide to put television coverage of the game on delay on the islands.
The Drua host the Highlanders at ANZ Stadium in Suva on Saturday, at a ground that can hold a capacity of 15,000.
However, as has been the case in New Zealand, tickets have been hard to shift and Thorburn told Stuff on Tuesday that the Drua were relying on a late surge to fill the ground.
"There have been three or four previous Super Rugby matches held in Suva, and they attracted crowds close to sell-out, about 15,000," he said.
"We start with an optimism that that's where we'll get to. I'm told all those games suffered from a similar syndrome of last-minute ticket sales. Fiji has a track record of that.
"This is our first Super Rugby game held in this market, and we don't have a knowledge of that track record, yet.
"All we can look to is those previous games, [but] they were pre-pandemic.
"So, there's different theories about whether the slowness or sluggishness of ticket sales is because of post-pandemic cash flow, and family budgets, or whether it's the last-minute syndrome."
On the field, the Drua have played their part with a series of encouraging displays. Although they have recorded just the sole victory, they could have beaten both the Force and the Reds, and they were highly competitive against the Blues on Saturday.
However, Thorburn also said that crowd figures for the Drua's 'home' games in Australia were averaging about 2000 – at least 50 percent below their expectations – and if ticket sales continued to look soft for the Suva game, he would have little choice but to switch television coverage of the game in the islands on from live to on-delay.
"At the minute, we have only sold or pre-allocated close to 5,000," he said. "That's not a drastically different scenario to those previous [Super Rugby] games.
"You may have seen reference to broadcast delays, and that's a decision I'll make on Wednesday based on what indicators there are of sales today, but it's a well-established fact that when you're live on free-to-air, it's easier for people to stay at home rather than come to the game.
"If it doesn't look like it's tracking towards a sellout, then we'll probably delay both the subscription and the free-to-air broadcasts."
Underwhelming crowd numbers have been a feature of Super Rugby Pacific in its first season, and the 'Super Round' in Melbourne last weekend was notable for the number of empty seats over the three days of rugby.
It does not appear to solely be a regional issue, however, with a vigorous debate currently taking place in South Africa about poor crowd numbers for United Rugby Championship matches.
Thorburn also confirmed that the Drua had been successful in their bid to move the final round game against the Chiefs from the Gold Coast to Lautoka.
The fixture had originally been scheduled for a Friday evening on 27 May, but would now be an afternoon fixture on 28 May in Fiji's second-largest city, where the crowd capacity is about 11,000.
Meanwhile, the Drua are hopeful of having star winger Vinaya Habosi available for the Highlanders game, having held him back from the Super Round.
Habosi has been one of the stars of Super Rugby Pacific, and Thorburn said they were already actively trying to tie down their best performers on extended deals to ward off suitors in overseas markets.
SOURCE: STUFF SPORT/PACNEWS