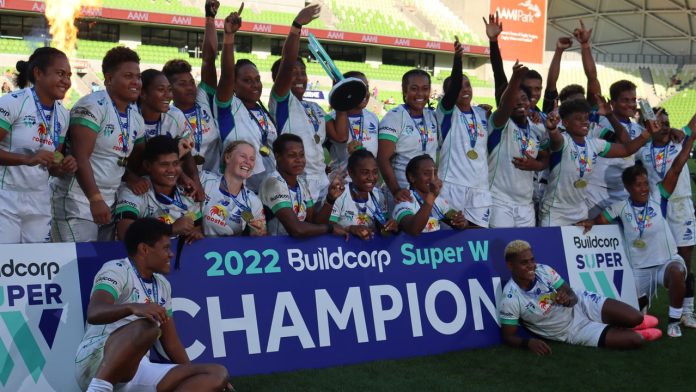 Fijian Prime Minister Voreqe Bainimarama has commended the splendid performance by the Rooster Chicken Fijana Drua following their win against the Waratahs.
Bainimarama thanked the Fijiana Drua for the perfect end to their perfect season.
He says all Fijians know this was an exceptional win adding that the level of rugby played by the Fijiana Drua was at another level.
"I have never seen rugby played by women that good one of the members of the opposition team, later on, said they were playing 7 a side in 80 minutes and I think that's true. When you watch the girls play it was played at a fast pace and that is something that I have never seen before in rugby."
Bainimarama says the final was entertaining to watch and many people including himself are still celebrating their win.
"It will be a while before we finish from this celebration but I continuously said that if the government supports our athletes they will come up with moments we will never forget. The wins in the Olympics, this one, wonderful game played by our girls."
The Prime Minister also took time to acknowledge the hard work put in by the coaching staff and the continued support from the respective sponsors.
Meanwhile, Fijiana Drua's historic win is a legacy in its own right and sets the standard for all young girls and budding rugby players to aspire towards.
These were the comments made by Fiji Rugby Union's Operations Manager, Sale Sorovaki adding that the Fijiana Drua's grit saw them win all their games.
"For them to come out without a loss, it shows the resilience of the team and also the coaching team which includes Senirusi Seruvakula, Inoke Male and Mike Legge and also the support staff that are behind them. It is history in the making."
Sorovaki is confident that following the Fijiana Drua's performance in the past months, interested parties and clubs are likely to approach them.
The FRU Operations Manager adds that this win will motivate a lot of young girls to consider rugby as a career path.
SOURCE: FBC SPORTS/PACNEWS