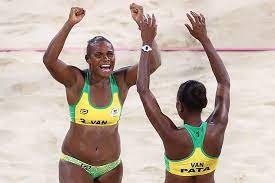 Commonwealth Games Australia has partnered with the Australian Government to assist athletes and Para-athletes from Pacific nations in their preparations for the Birmingham 2022 Commonwealth Games.
Commonwealth Games Australia (CGA) President Ben Houston Wednedsday announced a partnership with the Australian Government to support Commonwealth Games athletes and para-athletes from eleven Pacific nations to prepare for the Birmingham 2022 Commonwealth Games.
Due to the impact of COVID-19, many Pacific athletes face significant challenges in completing final training programs and attending critical qualifying events.
Particularly para-athletes who require access to classification opportunities to compete.
With support from the Australian Government's PacificAus Sports program, Pacific athletes and para-athletes will be able to train and compete in classification and qualification events, giving them the greatest opportunity to compete in Birmingham.
The partnership enables the CGA, the Commonwealth Games Federation (CGF) and the respective Pacific Commonwealth Games Associations to support athletes from Cook Islands, Fiji, Kiribati, Nauru, Niue, Papua New Guinea, Samoa, Solomon Islands, Tonga, Tuvalu and Vanuatu to secure a spot on their respective Commonwealth Games' teams.
The partnership supports the continuation of Griffith University's GAPS (Gather, Adjust, Prepare, Sustain) programme first implemented at the Gold Coast 2018 Commonwealth Games that supported Pacific athletes to win five medals, including inaugural Commonwealth Games medals for Cook Islands and Vanuatu.
CGA President Ben Houston spoke about the opportunity to inspire the Pacific through sport and the significance of developing the partnership.
"The 2022 Commonwealth Games will see over 350 athletes from the Pacific competing in Birmingham. These athletes inspire people and young athletes across the world," Mr. Houston said.
"This partnership is not just about backing high-performance programs across the Pacific. It also sends a message of resilience to communities throughout the region."
The President of the CGF, Dame Louise Martin said "the CGF is pleased to have the opportunity to work with the Australian Government to support our Commonwealth athletes through final preparations on their journey to the Games."
Griffith University's Associate Professor Clare Minahan said "Griffith University is proud to continue its leadership with the GAPS programme in supporting these athletes who have been impacted by the pandemic and this support will ensure they can qualify, train and prepare for the Games."
The Birmingham 2022 Commonwealth Games will commence on 28 July 2022.
SOURCE: COMMONWEALTH GAMES AUSTRALIA/PACNEWS