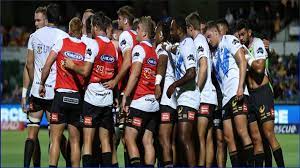 The Western Force's clash with Moana Pasifika has been postponed after a number of COVID cases in the Force camp.
The WA-based club were without coach Tim Sampson, Izack Rodda and Issak Fines Leleiwasa for last week's defeat to the Waratahs, forced into isolation.
However, further cases have emerged, leaving SANZAAR with little option but to postpone the match for a later date.
"The Super Rugby Pacific Round 10 match between Moana Pasifika and the Western Force has been postponed due to COVID-19 impacts on the Western Force squad," they said in a statement.
"The Super Rugby Pacific Medical Advisory Group made the decision to postpone the match, scheduled for this Friday 22 April as part of Super Round Melbourne, due to a large number of the Force squad being unavailable for selection.
"The Super Rugby Pacific tournament is very disappointed to have to postpone another game this season and for it to be impossible to play all six contemplated matches as part of this weekend's Super Round, but the decision was made with the best interests for the health and wellbeing of players and staff in mind.
"Every effort was made to try to ensure this game could go ahead as part of Super Round Melbourne, but with a large contingent of the Western Force squad unavailable, it simply wasn't feasible."
The match was set to be played at AAMI Park as part of Super Round, slated for Friday April 23 following the Chiefs against the Waratahs.
"The Western Force has medically reported considerable numbers of COVID-19 cases within the squad, which under Rugby Australia protocols means they are not available for selection," Force CEO Tony Lewis said. "We have worked closely with Rugby Australia High Performance to firstly protect the integrity of the Western Force club and Super Rugby Pacific. We have made every effort possible to assist in making this game go ahead. Despite looking at multiple player replacement options, the number of players affected is simply too great.
"We'd like to thank Moana Pasifika for their understanding, and we look forward to meeting them at a later date.
SANZAAR confirmed the rest of the schedule for the three-day event will be unchanged, which will see the five remaining games and the Super W Final.
"Super Round Melbourne still promises to be an incredible, historic weekend for the competition, with five Super Rugby Pacific matches and the Australian Super W final all taking place at AAMI Park in Melbourne," they added.
"SANZAAR will now work with all stakeholders to find a suitable date for the postponed match to take place.
"Affected ticket holders for the Friday 22 April event will be contacted by Ticketek regarding their tickets." .
SOURCE: RUGBY.COM.AU/PACNEWS