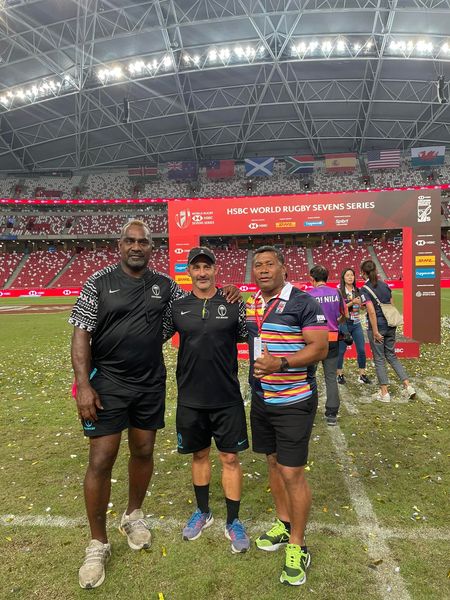 Fiji's victory at the Singapore Sevens last weekend was remarkable on a number of levels.
The Olympic champions were playing in their first World Series tournament since Dubai and were given a rude awakening with a first-ever defeat to Ireland in their opening game.
It wasn't the start that new head coach Ben Gollings envisaged or hoped for but they bounced back in brilliant style to win the title with a 28-17 win over New Zealand in a pulsating final.
Gollings took encouragement from the resilience his side showed in coming back from the Ireland setback to beat France 26-19 and Japan 62-0 to qualify for the Cup quarter-finals.
Fiji had to take their game up to another level again to see off World Series leaders South Africa and then Australia in the knockout stages before the All Blacks Sevens felt the full force of their attacking prowess in the title decider, debutant winger Vuiviawa Naduvalo scoring a brace to take his tally for the tournament to 10 tries.
"Having lost that first game it would have been very easy to go inward and kind of let that really affect you. But we didn't and it was a big win to go and beat France who are a really good side," said Gollings, talking exclusively to World Rugby from Vancouver, the next destination on the HSBC World Rugby Sevens Series.
"The defining moment for me was the game against Japan because that was a very important game. With the way our pool worked out, there was a big points differential we had to beat to secure a place in the quarter-finals and the players really stood up to the challenge and it was a big win in the end.
"That moment built a lot of belief in terms of what we could do on day two. It was great to see the senior players working so well with the new players to create that connection. I just think the general atmosphere amongst the team was really positive and the final was fantastic.
"Vuiviawa, the winger, has never been off-island or on a plane, so to perform the way he did was testament to how the boys applied themselves."
New boy Naduvalo enjoys a stunning debut
By scoring 10 tries, Naduvalo now jointly holds the record for a Singapore tournament with Filimoni Bolavucu, who got into double figures in 2006.
"It's amazing how it all works," said Gollings. "The first-choice winger, Iowane Teba sadly got a bit of an ankle injury which kind of halted his tournament in game one and it opened the door for Vuiviawa and he took the opportunity with open arms.
"Having rewatched it, people see him scoring the tries but the work he did to put himself in the position to score the tries was really positive from my standpoint.
"What was great is that along with all the new things he was experiencing and a lot of the players were experiencing, it didn't affect what they were there to do on the field. They came together and played as though they were playing back at home, it was fantastic."
Fiji had planned to return to the World Series in time for the Spain doubleheader in January but were forced to withdraw from the events in Malaga and Seville.
Instead, they prepared for their return to the circuit with some warm-up hit-outs against Australia and New Zealand, in Lautoka and then at the Marist Sevens in Suva.
"On the one hand it was disappointing we didn't go to Spain but the silver lining was that it did give us time to take stock of everything, reevaluate, allow me to get to know the programme a bit better and the players and set things out from there," Gollings said on reflection.
"We were very fortunate we were able to get New Zealand and Australia to come over and play, which was so valuable from our standpoint in terms of getting quality game time, and I think we developed well in the tournament.
"You have to come and target to win these things and the loss against Ireland at the beginning was, I guess, disappointing but not necessarily a bad thing.
"I think we bounced back really well which is important in sevens and I think the players gained more and more confidence as the tournament went on which is fantastic.
"A key component we focused on was to enjoy their performances and it was nice to see them play with smiles on their faces."
Heart in the mouth rugby
For Gollings, the Singapore success was another remarkable moment in a stellar career already littered with them. His record of 2,652 World Series points is 624 more than the next best and will take some beating.
Since retiring, the Englishman has been a high-performance coach in a number of different environments, including the Chinese national team. But they don't come much bigger than the Fiji sevens job, and following in the footsteps of Olympic gold medal-winning coaches, Ben Ryan and Gareth Baber, was never going to be easy.
"It's a pretty incredible start," he admitted. "From my standpoint, I took all of that thinking out of it and just focused on the games and what was in front of us. It was a really interesting experience.
"Definitely my heart was in my mouth a few times but I think it is key you hold that in so it is not seen by the players. But by the same token, I have trust in the players that they will go out and perform and that really helped.
"Ultimately it is the players that play on the field and they are the ones that did it. From a management perspective, I was just really pleased with the way we were able to get around the team and support that performance."
Gollings and Fiji's next challenge is to perform well in Vancouver, where they fell at the Cup quarter-final stage on their last visit in March 2020.
"It's a new place, new environment, and definitely a new climate.
"From our standpoint, we want to go out and perform again.
"This game is about being consistent and that's what we will be looking for again – another solid performance.
"We literally played two games of rugby and were on a plane 10 hours later so there's a big focus on recovery and getting the team up to that excitable level and motivated again. I think it is very possible here.".
SOURCE: WORLD RUGBY/PACNEWS