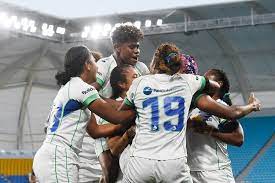 The Wallaroos could barely hide their excitement after fixtures against Fijiana and Japan were announced for next month.
The tri-series ends a two-year drought without Tests, with COVID derailing preparations ahead of this year's World Cup, with Wallaroos captain Grace Hamilton eager to get off to a strong start.
"The more effort and time you put into getting a team together, the better they get and that's going to be huge for us leading into a World Cup program," Hamilton told Rugby.com.au last week.
"It has been a long time between games and it's very important to hit the ground running with a huge year ahead.
"The more chance we can get and the more girls we can get into the program and get that test experience because it is a big step up, getting girls used to that will be a big step up for this team."
For new coach Jay Tregonning, it will mark his first game in charge after taking over at the end of last year.
Tregonning and the coaching staff have got a first-hand account of the threat Fijiana can possess, with the Drua steamrolling through Super W.
"They're looking to play a Fijian style of game and they've been outstanding to watch," he noted.
"They've been great for the competition, the spirit of the game has been excellent. Being able to see them play against the girls we'll have at the Wallaroos, it's been beneficial and as coaches, we're already looking at how we would go about playing them tactically.
"Having the opportunity to play Japan, two different styles of Rugby, it's going to aid in our preparations heading into the PacFour and the World Cup."
It will mark the first Wallaroos games in Queensland since 1997, something which excited Sevens gold medalist and Reds captain Shannon Parry.
"It's going to be a really special moment for the Wallaroos playing Fijian and Japan," Parry said.
"It's been difficult, no doubt, not being able to play in that jersey. We're playing catch up this year, so it's a good opportunity to get the squad together and it's a fresh start (under a new coach).
"I've been in the game for a long time and haven't been able to play at home (for Australia) very much so if the opportunity comes about, it's going to be very exciting. There's nothing more passionate and exciting about playing for Australia than playing in front of a home crowd. The emotion and roar in the game, it's something all Aussies look forward to.".
SOURCE: RUGBY.COM.AU/PACNEWS