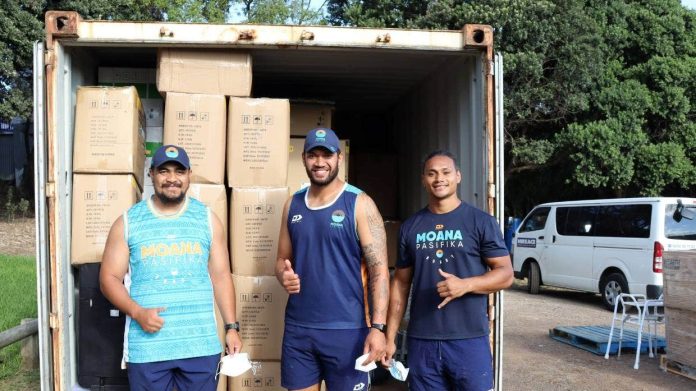 A container packed full of medical supplies and equipment is on its way to Tonga thanks to Moana Pasifika's fundraising efforts.
Moana Pasifika's fundraiser 'Ofa Atu Tonga – With Love Tonga' kicked off on February 4 at the new Super Rugby Pacific club's pre-season game against the Chiefs.
Up until the container left for Tonga on Monday, the fundraising drive had raised more than $75,000 (US$52,000) for the people of the Kingdom of Tonga which was hit hard by the devastating volcanic eruption and tsunami in January followed by a Covid-19 outbreak.
Moana Pasifika Trust chair Savae Sir Michael Jones said reaching such a significant total has been humbling.
"The generosity of support has been overwhelming," Jones said.
"Moana Pasifika would like to express our heartfelt thanks to everyone who showed the spirit of compassion and who donated generously," the All Blacks great said.
Donations to its fundraising drive were received from 10,227 people from across Aotearoa and all around the globe.
The money raised has gone towards a container full of medical supplies that will be received in Tonga by a team from Pasifika Medical Association (PMA) who were deployed in late March to provide on the ground medical assistance and primarily mental health support through a team of specialists.
The PMA team engages directly with those traumatised by the recent natural disasters as well as the current Covid-19 outbreak.
In partnership with the respective governments of Tonga and New Zealand, the PMA team are working together to ensure that the medical supplies purchased through the donations from Moana Pasifika's fundraising efforts are received by the local hospitals to be used by the affected communities.
Chief surgeon specialist at Ministry of Health in Tonga and PMA Patron Lord Tangi o Vaonukonuka said the Kingdom of Tonga was extremely grateful for the container of donated medical supplies and the "wonderful contribution" made by the Moana Pasifika through their fundraising campaign.
"The money raised has been able to secure vital medical equipment and medicines which will be distributed to hospitals across Tonga including the main hospital on Nuku'alofa, Vaiola Hospital, and Ha'apai's hospital, the Princess Fusipala Hospital," Lord Tangi said.
The shipping costs of getting the container to Tonga were donated by Matson Shipping to enable the full fundraising total to be spent on medical supplies and equipment.
SOURCE: STUFF NZ/PACNEWS