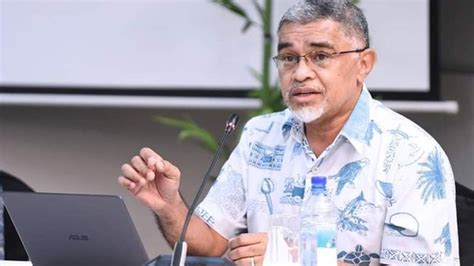 -Fiji's Permanent Secretary for Health Dr James Fong is concerned that people are not taking the new Omicron variant seriously.
Dr Fong said more than 70 countries have now reported cases of Omicron and the reality is that the new variant of coronavirus is probably in most countries, even if it hasn't been detected yet.
In his latest COVID-19 update, he said Omicron is spreading at a faster rate than any other previous variants and if Omicron does cause less severe disease, the sheer number of cases could once again overwhelm unprepared health systems.
"We're concerned that people are dismissing Omicron as mild. Surely, we have learned by now that we underestimate this virus at our peril," he said.
"I need to be very clear that vaccines alone will not get any country out of this crisis. Countries can and must prevent the spread of Omicron with measures that work today.
"It's not vaccines instead of masks. It's not vaccines instead of distancing. It's not vaccines instead ventilation or hand hygiene. Do it all. Do it consistently and do it well.
"If a variant is transmissible enough, stringent border and community measures will only delay the inevitable entry and spread of current and future variants of the coronavirus.
"To protect ourselves and loved ones, we must all get vaccinated when it is our turn and even with our high vaccination levels, we must maintain health safe habits," he said.
Dr Fong said some people continue not to adhere to coronavirus safe measures in gatherings throughout the country, especially the adherence to masking in indoor public spaces.
"After the Delta outbreak this year, it is understandable that many will feel the urge to relax and celebrate now that case numbers are low," he said.
"Many of us have let our guards slip. We are all human but this must stop as vaccination and coronavirus safe measures are the only way to safely navigate our way through the pandemic.
"We must ensure that together with vaccination, we continue to observe our coronavirus safe measures and avoid contained spaces and crowds," he said.
Dr Fong said the discovery of Omicron is a sharp reminder to everyone that the key to avoiding future restrictions and lockdowns is for everyone to remain cautious.
SOURCE: FIJI LIVE/PACNEWS