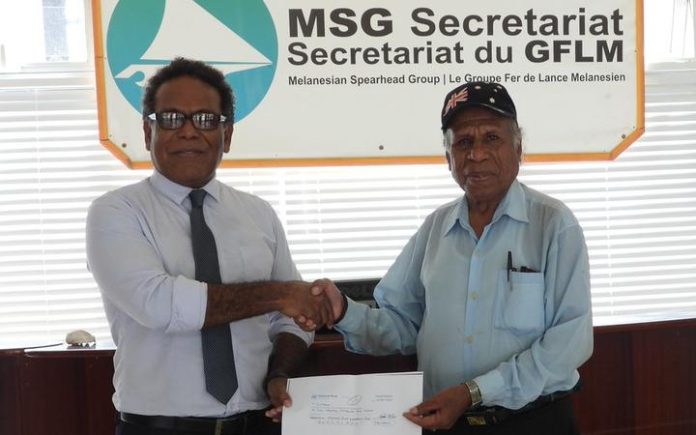 An application by the United Liberation Movement of West Papua to become a full member of Melanesian Spearhead Group (MSG) has been re-activated.
Last year, the ULMWP announced itself as a provisional government in exile for West Papua, as it pushes for a referendum on independence from Indonesia.
Several years ago, the ULMWP applied for full membership status at the sub-regional grouping whose full members are Papua New Guinea, Fiji, Solomon Islands, Vanuatu and New Caledonia's FLNKS Kanaks movement.
However, its official representative in Vanuatu, Frederick Waromi, said he has had to re-submit the ULMWP's application, after their earlier file went missing.
The file disappeared while Amena Yauvoli from Fiji was the director general of the MSG secretariat.
Vanuatu's Prime Minister Bob Loughman is about to assume chairmanship of the MSG and it has been suggested this would be the right time to admit the ULMWP as a full member.
The strong support that successive governments in Vanuatu have given West Papuans' self-determination aspirations was mentioned during the recent speech of the Interim President of Provincial government of ULMWP, Benny Wenda, on West Papua Day, 01 December, the anniversary of the former Dutch New Guinea's declaration of independence in 1961.
Wenda said that with Vanuatu's help, the movement had made tremendous progress since its inception in 2014 in an historic unification summit of all the various main West Papuan political groupings hosted in Port Vila.
A year after the summit, the ULMWP was granted gained observer status in the MSG, a breakthrough in regional recognition of the West Papuan independence movement.
In 2019, 18 countries in the Pacific Islands Forum and 81 countries in the Organisation of African, Caribbean, and Pacific States (OACPS) recognised the West Papuan struggle and called for the United Nations High Commissioner for the Human Rights to be allowed into West Papua.
"We continue to support Vanuatu and other Pacific states to get the resolutions at the Human Rights Council and UN General Assembly," Wenda said during his official West Papua Day speech last week.
He said it was time for the people of Indonesia to recognise their struggle and their right to form an independent nation just like them from Dutch colonialism years ago.
Wenda said he guaranteed Indonesians who were currently living in West Papua that it was their home too.
"I am asking Indonesia government to recognise our call to peacefully end this. We don't want to see any bloodshed anymore. That is why we are now coming together to form this provisional government.
"You don't need to worry about independent West Papua. We will be a peaceful neighbour for a long time to come.
"We are asking peacefully, not with the bullet, not with the bomb or bloodshed but through a peaceful international mechanism," said Wenda.
Indonesia, which is an associate member of the MSG, opposes the ULMWP's claim to represent West Papuans, and has ruled out holding a referendum.
SOURCE: RNZ PACIFIC/PACNEWS