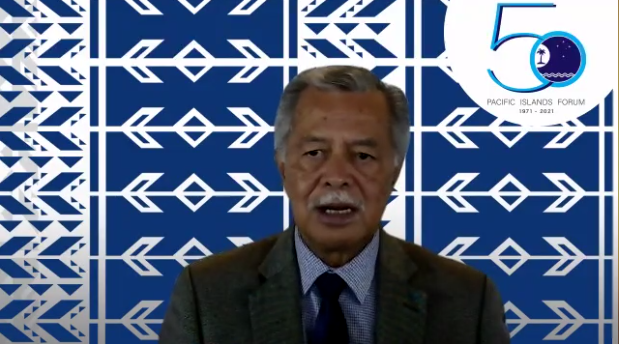 I join Forum Leaders in commemorating and promoting International Day for the Total Elimination of Nuclear Weapons on 26 September.
A day that once again reminds us of our painful nuclear legacy where our Blue Pacific Continent was subjected for five consecutive decades to the scourge of these deadly weapons following World War II. Sadly, we continue to confront these ongoing impacts and unresolved issues.
We also continue to be frustrated at the slow pace of nuclear disarmament, and the growing anxiety they cause given their catastrophic consequences. In our region, the potential for strategic miscalculation grows, further exacerbated by intensifying geopolitical competition.
The sovereign right of independent nations to enter into multilateral agreements for the mutual benefit and security of their people and countries is a fundamental tenet of international affairs.
The announcement last week by the leaders of Australia, the United Kingdom and the United States of their new trilateral security partnership, includes the development of nuclear-powered submarines for Australia. We will engage with all our Forum Members to fully understand the implications of this announcement.
Notwithstanding, our Blue Pacific remains a Nuclear Free Zone into perpetuity, under the framework of the Rarotonga Treaty and the Nuclear Non-Proliferation Treaty (NPT), which contribute to the rules-based international order founded on the UN Charter.
I call on nuclear weapon states, all of whom have legally demonstrated their intent to uphold our Nuclear Free Zone, and their allies to make every effort to eliminate nuclear weapons and to prevent non-peaceful nuclear activities.
This is essential to any formula for regional and global unity, peace, security and prosperity.
We must unite in solidarity as a region to address our nuclear legacy issues, the impacts of COVID-19 and the existential threat of climate change.
Ambitious action at all levels remains paramount as we advance our efforts, and forge deeper engagement and enduring partnerships to mobilise international efforts towards achieving the common goal of a nuclear-weapon-free world.
The UNGA 76 is completing its agenda for 2021 on Wednesday Fiji time with a high level plenary commemorating this day.
SOURCE: PIFS/PACNEWS