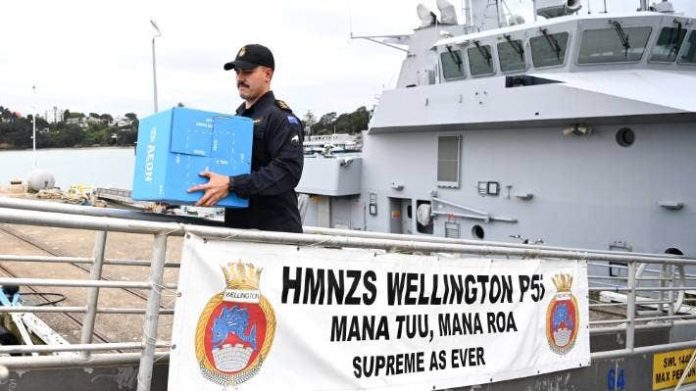 Geopolitical jockeying for influence has got some Pacific island nations vaccinated against Covid-19 much quicker than New Zealand. But is there a quid pro quo? National Correspondent Lucy Craymer reports.
The Marshall Islands has said they don't need vaccines from COVAX, Palau and Guam are vaccinating tourists and Fiji is preparing to open its borders as 80 percent of its adult population will soon be vaccinated.
Vaccination rates in some Pacific countries and territories are tracking at levels higher than those in New Zealand and nearing some of the best in the world. It's an achievement that wouldn't be possible without the donations of rich benefactors.
Those donations, in part, come because global vaccination is crucial to ending the pandemic. But countries are also donating vaccines as a way to win friends at a time when both China and the U.S are trying to grow political influence and cement relationships in the region.
"All aid comes with what we call a 'soft diplomacy' approach," says Berlin Kafoa, director of the Public Health Division at the Pacific Community (SPC). Even so, he says the vaccines are welcome as Pacific countries can't safely reopen without them.
"If vaccines are delivered in bulk and in time, then the economic impact on poor nations will be less," says Kafoa.
A number of the countries including Palau, the Cook Islands, Niue and Nauru have fully vaccinated more than 60 percent of their total population, according to Our World in Data, a project based at Oxford University. Other countries such as Fiji are rapidly catching up. In comparison, just 3.7 percent of Africa's total population is vaccinated.
There are some exceptions – Papua New Guinea, the Solomon Islands and Kiribati are still struggling to gain vaccine momentum with less than 10 percent of their total populations fully vaccinated. The countries are facing issues with vaccine hesitancy and logistical challenges in their rollouts. Papua New Guinea recently transferred unused vaccines donated by New Zealand to Vietnam.
What is vaccine diplomacy?
Medical diplomacy is not a new phenomenon – rivalry between the Soviet Union and the U.S was a factor in eliminating smallpox. The term 'vaccine diplomacy' is popping up more though as the pandemic rages. It refers to countries providing vaccines in the hope it will strengthen relationships and enhance their global standing.
It is not necessarily bad. It gives more people access to vaccines and has pushed countries that were "a bit tardy on stepping up to the plate" to donate, says Michael Jennings, a reader in international development at the University of London.
However, he says there have been incidents where vaccines have seemingly been used to gain an advantage. Brazil, for example, he says, changed its stance on allowing Chinese telecommunications giant Huawei to participate in a tender to build its 5G after China donated vaccines there.
"In regions like sub-Saharan Africa, which don't have a lot of strategic value to the global powers, they have effectively been neglected," adds Jennings.
Naval officers have helped health workers co-ordinate logistics in the vaccination campaign in the outer islands of Fiji.
In August, China's President, Xi Jinping, said this year his country aimed to provide two billion Covid-19 vaccines to the world and a further US$100 million to the global fight. This announcement came days after the White House said it had already donated and shipped more than 110 million doses of Covid-19 vaccines to more than 60 countries, making it, at that point, the biggest donor of vaccines globally. The US has pledged to donate half a billion Covid-19 vaccines worldwide.
"The United States has not and will not use its vaccines to secure favours from other countries. Our aim is to save lives," a White House statement said at the time. However, President Joe Biden added in a speech the donations were sending a message in "proving democracies can deliver and, yet again, that America is back leading the world – not by the example of our power, but by the power of our example."
New Zealand's offer has been smaller but not insignificant. The Government announced in May it would donate vaccines to immunise an estimated 1.2 million people in the Pacific over the coming year. Priority was given to the Cook Islands, Niue and Tokelau, but if they need them, Samoa, Tuvalu and Tonga will receive vaccines for their populations. And vaccines would also be donated to Fiji.
"The support from New Zealand was great," says Bob Williams, Cook Islands Health Secretary. "A small country like ours wouldn't have been able to secure the vaccine if we had to secure it ourselves."
The Cook Islands has vaccinated nearly all of its population over the age of 16 and has just approved vaccines for 12-to-15-year-olds.
Larger or richer countries such as Israel and Russia have also made donations of their own to support countries without the money (or the size) to buy vaccines for themselves.
"Essentially global vaccine diplomacy is mixing your larger health goals with your shared foreign policy objectives," says Teesta Prakash, a sessional academic at Griffith University with a doctorate in international relations. "Specifically in the Indo-Pacific this is very important because it has become a region where there's a lot of economic and strategic competition."
Many of the vaccines are donated through COVAX, aka the Covid-19 Vaccines Global Access facility. COVAX is an international alliance that works to deliver vaccines to poorer countries.
But vaccine donations in the Pacific that have come directly from other countries have been more efficient than the distribution from COVAX, says Anna Powles, a senior lecturer in the Centre for Defence and Security Studies at Massey University. She says French Pacific territories, New Zealand's 'realm countries' and the three Micronesian countries have all benefited from their relationships with a larger power.
"Vaccine diplomacy has played out to the benefits of the Pacific but even without that strategic competition I would have hoped that Australia and New Zealand would have vaccinated them," she says.
While Beijing initially sought to shape the pandemic narrative in the Pacific, vaccine donations by Australia have outpaced China's, she adds.
A Ministry of Foreign Affairs and Trade spokeswoman says the donation of vaccines from New Zealand was consistent with our ongoing responsibility to Tokelau, Niue and the Cook Islands and supporting the Pacific region more broadly.
But why the Pacific?
China's influence has grown in the Pacific region over the past two decades as it has provided loans and aid, Chinese businesses have set up shop and its fishing fleets have ventured south. In response, the U.S, Australia and New Zealand have all stepped up their engagement with the region.
The Pacific, with its votes at the United Nations, its resources – particularly tuna – and its location between the two superpowers has some strategic importance.
A key figure in the US administration, Kurt Campbell, said in July he recognised the US needed to substantially step up its game in the Pacific region and focus on pandemic issues along with traditional issues such as poverty, obesity and health security.
Key to the vaccine roll-out in the Pacific (and South East Asia) has been a pledge by the Quadrilateral Security Dialogue, or Quad, which includes Australia, the U.S, India and Japan. The group, which is seen as a bulwark against Chinese expansionism, said after a meeting in March that Australia would provide full vaccine coverage to nine Pacific Island countries and Timor-Leste and help deliver vaccines to South East Asia.
In a series of tweets, Australia's Foreign Minister, Marise Payne, has documented the successes of Australia's vaccine and other medical equipment deliveries. In the past six weeks, she has posted on Twitter photos showing boxes of vaccines emblazoned with 'Australian Aid' and a bright red hopping Kangaroo in warehouses and on airport tarmacs in Indonesia, Vietnam, Kiribati, and Fiji.
When the Solomon Islands started its Sinopharm roll-out in May the local Chinese Ambassador was pictured standing over the country's deputy prime minister as he took off his shirt to be vaccinated. At the opening ceremony, large signs declared in blue and white 'China Aid', as the ambassador said the provision of 50,000 doses highlighted the countries' "genuine friendship and trustworthy partnership".
Vaccine diplomacy tensions hit a peak in July when China accused Australia of "vaccine sabotage" in Papua New Guinea. The Global Times, a nationalist tabloid with strong ties to China's Communist Party, reported, citing sources, that Australia planted consultants in the country to manipulate local epidemic policies and obstruct the authorisation of Chinese vaccines used in the region. Australia denied this.
Derek Grossman, a senior defence analyst at think-tank RAND Corporation, says China was able to roll out its vaccines around the globe earlier than others. But now, as concerns grow about its efficacy – particularly against the Delta variant – "some countries are starting to get cold feet about using it".
In Fiji, as the outbreak worsened, support came in from countries around the world in the form of vaccines, money and personal protective equipment. New Zealand has announced support for more nurses, 100,000 doses of the AstraZeneca vaccine and money for things such as extra testing capacity, oxygen supply and personal protective equipment.
This support has elicited thanks and comments of goodwill to donating countries. In July, after the New Zealand Government pledged more vaccines to Fiji, Prime Minister Frank Bainimarama said in a statement the expressions of warmth and generosity from New Zealand were "testament to the depth of the bilateral relations" and that in recognition of this the two nations would work towards a "statement of partnership" which reaffirms the bonds of friendship.
America's relationships with territories and other affiliated countries such as Palau meant they got their vaccines relatively early compared with much of the world.
Palau started vaccinating frontline workers in early January, and now more than 80 percent of the population has been vaccinated. Such is the availability of vaccines that anyone arriving in Palau unvaccinated is able to get vaccinated there – this has resulted in people unable to get vaccinated in Taiwan, flying in to be jabbed. A similar scenario is occurring in Guam.
"We were very lucky," says Gaafar Uherbelau, deputy incident commander at Palau's Ministry of Health. He adds they have now started providing boosters for people with underlying illnesses.
The country, which like many in the region is reliant on tourism, closed its borders early to prevent Covid-19 coming in but has since been able to reopen, thanks in part to vaccination rates.
"Getting our community protected is not only for our health and wellbeing of community members but as well for our economic recovery," adds Ritter Udui, incident commander at the ministry.
But even as many countries around the region are thankful for the donations, the pandemic issues aren't over yet, and nor is the need for aid or the opportunity for soft diplomacy.
"The question for the island countries is: 'is there a discussion around booster doses to maintain the immunity'," Kafoa, from the SPC, says.
SOURCE: STUFF NZ/PACNEWS