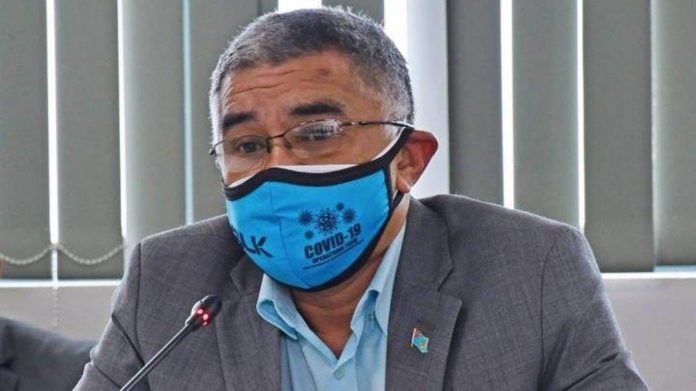 Fiji has recorded 79 new cases of COVID-19 Sunday, increasing the total number of cases to 49,889 with 564 deaths since the outbreak in April.
Permanent secretary for Health, Dr James Fong said 35 cases are from the Western division and 44 cases are from the Central division in Vitilevu, Fiji's main Island.
"There have been 82 new recoveries to report since the last update, which means that there are now 12,981 active cases. 1,252 of the active cases are in the Central division, 11,419 active cases in the Western Division, one active case in the Northern division (Macuata), and 309 active cases in the Eastern division (all in Kadavu).
"There have been 49,889 cases during the outbreak that started in April 2021. We have recorded a total of 49,959 cases in Fiji since the first case was reported in March 2020, with 36,011 recoveries," said Dr Fong.
He said there has been one death of a COVID-19 positive patient. However, this death has been classified as a non-COVID death by their doctors.
"The doctors have determined that this death was caused by a serious pre-existing medical condition and not COVID-19.
"There have now been 566 deaths due to COVID-19 in Fiji, with 564 of these deaths during the outbreak that started in April this year.
"As of 14 September, the national seven days rolling average of COVID-19 deaths per day is 1.1. The seven days rolling average for COVID-19 deaths per day in the Central division is 0.6 and 0.6 in the Western division.
"We also have recorded 401 COVID-19 positive patients who died from the serious medical conditions that they had before they contracted COVID-19; these are not classified as COVID-19 deaths," said Dr Fong.
He said there are currently 115 COVID-19 patients admitted to hospitals in Fiji.
"34 patients are admitted at the Lautoka Hospital and 81 are admitted at CWM hospital, St Giles, and Makoi.
"Six patients are considered to be in severe condition, and three are in critical condition," said Dr Fong.
He said a total of 355,992 samples have been tested since the outbreak that started in April 2021, with 398,853 tested since testing began in March 2020.
"The national 7-day average daily test positivity is 12 percent which is on a downward trend but still indicating a high level of community transmission," said Dr Fong.
To date, 587,948 adults in Fiji have received their first dose of the vaccine and 387,320 have received their second doses.
"This means that 98 percent of the target population have received at least one dose and 66 percent are now fully vaccinated nationwide," said Dr Fong.
Meanwhile, the rollout of the Moderna COVID-19 vaccine for children from the ages of 15 to 17 years will begin today across the country.
According to an advisory from the Ministry of Health and Medical Services, children from 15 to 17 years of age are being vaccinated first as these children are mostly in secondary school and some of them are nearing the end of their secondary education.
The advisory further states that Year 12 and Year 13 students need to sit external exams to progress onto higher education.
Details of the rollout plan:
*Through the Ministry of Education, the Moderna vaccine will be rolled out by school clusters within the four divisions.
*Schools that are close by to each other will group to form a cluster, where students who are 15 to 17 years of age can get vaccinated.
*Children will need to receive two doses of the Moderna vaccine which is administered at a dose interval of 28 days.
*Parents and guardians will be asked to sign a consent form for children receiving this vaccine.
*They will also be able to register their child online before he or she receives the first dose of the Moderna vaccine.
*Parents and guardian can register their child online for the COVID-19 vaccination before going to the vaccination site at: https://vra.digitalfiji.gov.fj/.
SOURCE: PACNEWS