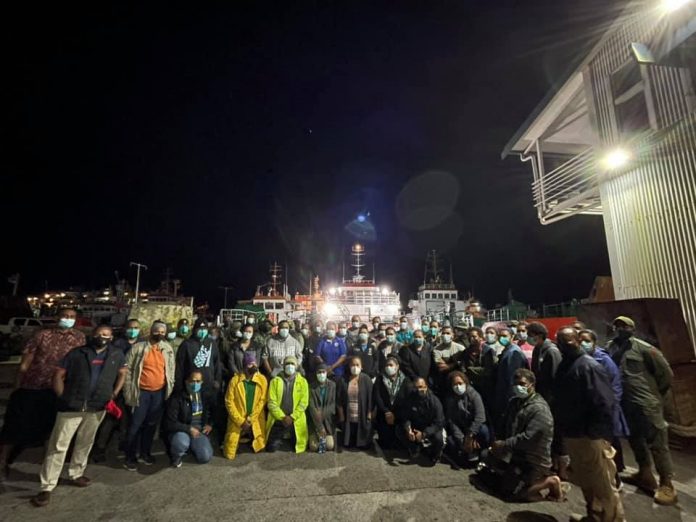 New COVID-19 cases from Labasa and additional cases on Malolo Island reported Thursday as infections are now recorded in Fiji's major divisions.
Fiji has recorded 423 new cases of COVID 19 and nine new deaths increasing the total number of cases in the island nation to 45,098 and 466 deaths since the outbreak in April.
Permanent secretary for Health, Dr James Fong said 328 cases are from the Western division, 92 cases are from the Central division and three cases are from the Northern division.
Dr Fong said the three new cases in the North were detected in the Namara Tiri Settlement in Labasa.
"The index case is a freight vehicle driver who works at the Nabouwalu wharf and was tested as part of the routine surveillance programme for those working within the Nabouwalu wharf operations," Dr Fong said.
"He tested positive on 24 August and subsequently two household contacts have also turned positive. His previous negative swabs on 14 July and 03 August, and 12 August were negative, suggesting recent exposure and infection."
Dr Fong said six more individuals had tested positive for COVID-19 in Malolo.
He said there were now 23 active cases on Malolo Island.
Dr Fong said a medical team from Lautoka had travelled to Malolo Island to assist the onsite medical team with the necessary response, including isolation of cases, contact tracing, and quarantine of contacts.
He also announced nine COVID deaths reported from 19-25 August included a 94-year-old elderly woman of Somosomo Village, on Naviti island, in the Yasawas.
He said they were now investigating how this person became infected.
"… The ministry's response team in the West are conducting contact tracing and testing of contacts to identify more cases on the island. More information will be provided to the public as investigations progress."
"There have been 230 new recoveries reported since the last update, which means that there are now 19,280 active cases. 9,568 active cases are in the Central Division, 9,573 active cases in the Western division, 4 active cases in the Northern division (Nabouwalu and Macuata) and 135 active cases in the Eastern division (all in Kadavu).
"There have been 45,098 cases during the outbreak that started in April 2021. We have recorded a total of 45,168 cases in Fiji since the first case was reported in March 2020, with 25,138 recoveries," said Dr Fong.
Dr Fong said of the nine deaths, one was reported in the Central division and the rest in the Western division.
There are currently 233 COVID-19 patients admitted to hospitals in Fiji.
"102 patients are admitted at the Lautoka Hospital, 36 patients are admitted at the FEMAT field hospital, and 95 admitted at CWM hospital, St Giles, and Makoi. 39 patients are considered to be in severe condition, and 11 are in critical condition.
As of 25 August, 553,399 adults in Fiji have received their first dose of the vaccine and 251,396 have received their second doses.
"This means that 94.3 percent of the target population have received at least one dose and 42.9 percent are now fully vaccinated nationwide," he said.
SOURCE: PACNEWS/FIJI TIMES