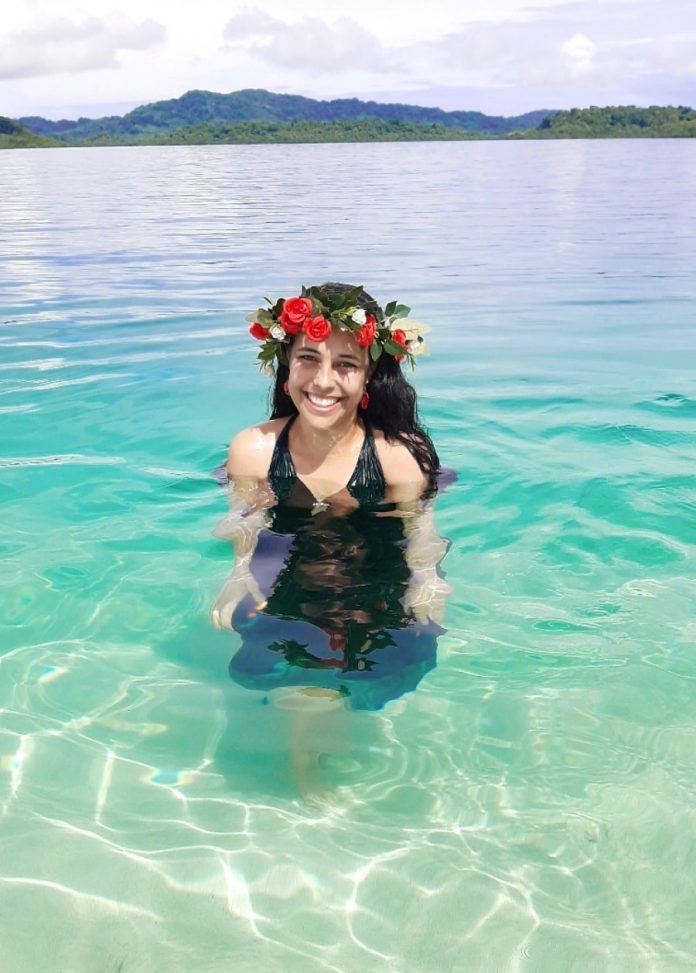 Climate activist Gladys Habu has challenged world leaders to bring the next climate change COP (Conference of the Parties) to the Pacific region, in order for global leaders to see for themselves the impacts of climate change.
The COP conferences are annual meetings held to access countries' progress in reducing emissions and developing strategies for doing more.
COP26 is a forthcoming climate change conference about science and innovation in the face of climate disaster and will be held in Glasgow, United Kingdom later this year.
Habu had made the call in a video where she was half-submerged in water, where Kale Islands in the Solomon Islands once was and is now overtaken by the sea-level rise.
In an interview with the Samoa Observer, she said that logistics wise it can be very difficult to try to organise and host such a big annual climate event, but she does not think it is impossible.
"I think if we really wanted to understand how the most vulnerable people and the most directly impacted countries are here in the Pacific, and you know the way these face climate change, I think we would be able to host an event like COP," Habu said.
She explained that if countries like New Zealand and Australia could facilitate such an event if the Pacific islands are too small or lack facilities that large to host such an event.
"But to be honest that is just an excuse. We shouldn't use that as a barrier that limits us from being able to host COP," she said.
"I think the world, I think countries in Europe and in America and all these developed western countries need to come over to us to really see what we are going through.
"A lot of people don't really understand the severity or the urgency that people face here due to the impacts of climate change and they hear about it but they don't see it for themselves so because of that they don't really understand why it means so much to us that we have to take action now."
She is of the view that this could be justified if COP comes to the Pacific.
"Come and stand for yourselves in our oceans and feel the significance. Like me standing half-submerged in Kale is basically what it feels like for many of us already," she said.
"There are people out there who are losing their homes, their land, and there are people that have already gone past that and are slowly recovering and trying to go about their lives despite the difficulty that this has been."
With 26 COP's this year, Habu feels that everybody is talking about it too much and aren't really doing enough to do their bit to mitigate the issue.
"I admire a lot of Pacific Islanders for standing up and sharing our stories, our personal experiences on how climate change affects us and I admire the strength that we have in using the little that we have," she said.
"You know the traditional materials that we have in our midst to help us adapt to it.
"But all this talk about helping the vulnerable countries access climate finance or adaptation are you now helping to combat or reduce carbon emissions to 1.5 degrees Celsius, it's really not working for us.
"I just feel like people are just saying a lot but we aren't really feeling it here. So we definitely need to step up more and hence why I believe Pacific island countries need to take the lead on this and hence why I called on Pacific Island leaders to declare a climate emergency because we all need to show the world how significant this is for us.
"And if we're not declaring it an emergency, no one's gonna act now, no one's gonna act with the urgency that we need for climate action. And if we can at least get a few countries, at least before this COP26 to stand up and declare a climate emergency, I believe this will bring a very powerful message to the rest of the world.
She said that hopefully, this will be something that would be pushed on behalf of the Pacific to bring COP closer to the islands, and hopefully host it in a Pacific Island nation.
"New Zealand is the only country that has declared a climate emergency so why can't the rest of us?" she said.
Kale Island was a place that Habu had held close to her heart, remembering it as a big island while growing up.
"By 2009 was when I realized that it was becoming smaller and smaller than I remembered and within a span of the next decade, Kale completely disappeared."
Losing the island that she cared about according to her, happened fast and no one had expected it.
"Like one day we just decided to have one of our normal family gatherings at Kale like we always do every December and we took the boat out and it was just no longer there," she said.
Asked about how others can join the call she has made, Habu stated that the best way now would be to take the call that she made seriously.
"And this is with regards to me requesting that Pacific Islands countries should declare a climate emergency," she said.
"I don't believe that this requires finance, too much finance, or anything like that to make such a decision. Declaring a climate emergency is just a bill that needs to pass you know, in parliament.
"We just need to write it down and agree on it in Parliament and make the declaration. And if we can all make the declaration as pacific islanders, and share that message to the rest of the world.
"I believe in that sense we can take the stand together and agree to push or put pressure on the Government on the COP26 organisers to bring the next COP to the Pacific."
Habu then applauded the work of climate activists in Samoa who helped share her story and is looking forward to more young people and other Pacific islanders joining the call.
The Editor of Pacific Environment Weekly Lagipoiva Cherelle Jackson told the Samoa Observer on Tuesday that over the years there have been calls to host the COP in the Pacific, however, due to the logistics and cost, Governments have hesitated to do so.
"Fiji hosted the COP but due to accommodation challenges and other issues, they ended up hosting it in Bonn where the facilities were already in place to host such a large conference," she said.
"The fact that these meetings are generally held in freezing conditions and three days' travel away from the Pacific, puts Pacific negotiators in a disadvantage in terms of numbers of delegates, capacity to negotiate after such long commutes and the cost of sending larger delegations.
"These are the disadvantages that I have witnessed in the COPs with the participation of Pacific islands in the negotiations.
She emphasised that the call to host the COP in the Pacific is understandable from the lenses of equity, in that islands deserve the equal treatment in the hosting of such a significant event.
"However realistically, from my experiencing covering the COPs and as part of Pacific delegations, it would be a logistical challenge from an organisational standpoint," she said.
"If Fiji, who has some of the largest facilities and number of rooms in any of the Pacific islands could not host it due to capacity constraints, then the same challenge would definitely apply to other islands."
On 20 August, the Chair of the Pacific Islands Forum (PIF) and Prime Minister of Fiji Voreqe Bainimarama called on every leader to take immediate action that limits global warming to the Paris Agreement's 1.5-degree Celsius threshold.
He made the comments in response to a report recently issued by the Intergovernmental Panel on Climate Change (IPCC), which found that within the next two decades, global temperatures are likely to rise by more than the previous 1.5 degrees' Celsius global target, which would bring about widespread environmental destruction and extreme weather.
"We must keep the goal of 1.5 alive. It is not only critical for the survival of Pacific nations, it is imperative for the well-being of the global community and the economies that connect us. That has long been our mantra, and this report shows it is slipping from our reach," he said in a statement.
When the ocean is lapping at your door, fires approaching your home, or flood waters are sweeping through your community, the 1.5-degree target is not a preference –– it is vital. We believe the 1.5-degree target can be reached because we believe in the potential of collective action. But the window for action is closing even faster than we expected.
Bainimarama emphasised that there are less than 80 days to heed IPCC's warning and deliver the required climate ambition, climate finance, and climate action at COP26.
"I have led the global climate negotiations and joined recovery efforts at the front line of climate-fuelled super-storms," the Fijian Prime Minister said.
"As a former COP President, as the Fijian prime minister, as a grandfather and faithful steward of the Blue Pacific, I demand that commitments to cut emissions are implemented through tangible policy changes, new investments, and other actions.
"High emitting countries hold the levers for change. They have outsized control over our collective fate. They must take responsibility or live with the consequences of inaction.
"I call on all Forum members to work as a collective and use every possible avenue to demand global action. This is not the time for polite Pacific diplomacy.
"We should not quietly sit by and watch our islands lost to the seas. We should not meekly accept the loss of our livelihoods and the lives of our loved ones. This is not the time for speeches or green-washed commitments.
"We need action –– real action with reliable measures of accountability. This cannot be a moment of concern, it much become a transformative movement.
"A movement that does not tolerate science deniers or selfish interests or short-sighted profiteering that relies on the destruction of our homes, our economies and our future, but a movement that prioritizes the preservation of our ecosystems, livelihoods, and existing cultures."
Bainimarama said that they will continue to uphold their moral authority and call on the world to honour the Paris Agreement and to sacrifice, now, to ensure a safe, stable, and viable future for the children.
"Do not miss the transformative opportunities that climate-centric innovation can offer. Do not push this crisis on to our children or onto your children.
"This crisis is ours to own and ours to solve. By the time leaders come to Glasgow at COP26 –– it has to be with immediate and transformative action that are implementable and that make climate commitments achievable," he said.
"Come with commitments for serious cuts in emissions by 2030 –– 50% or more. Come with commitments to become net-zero before 2050. Do not come with excuses. That time is past," said Bainimarama.
SOURCE: SAMOA OBSERVER/PACNEWS