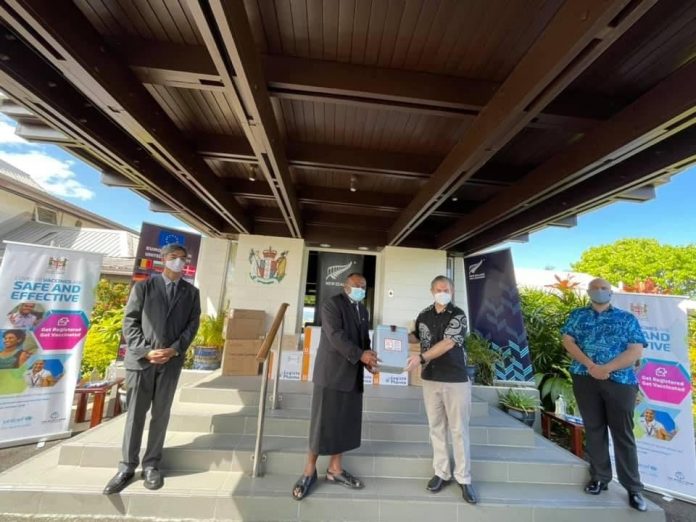 A shipment of 100,000 doses of AstraZeneca vaccines funded by the New Zealand Government and sourced in cooperation with Spain has arrived in Fiji.
While handing over the vaccines to the Minister for Health, High Commissioner Jonathan Curr reaffirmed New Zealand's commitment to support our Fijian whanau to access safe and effective vaccines and help protect against COVID-19.
"AstraZeneca is Fiji's vaccine of choice for the eligible population and these doses will further support the excellent work of Fiji in vaccinating its population," said Curr.
"Vaccines are also the key to achieving effective economic and social recovery and we have confidence in Fiji's ability to meet its vaccination target."
"Vaccinations offer our communities the best protection against the health impacts of COVID-19. COVID-19 has affected us all. We will all benefit from a vaccinated nation," added Curr.
The Minister for Health and Medical Services, Dr Ifereimi Waqainabete acknowledged the continued support of the New Zealand Government in these challenging times.
"The 100,000 doses of AstraZeneca vaccines (and the more committed) will boost the efforts of the vaccination team as more Fijians will have access to the vaccines which will help prevent hospitalizations and save lives," Dr Waqainabete said.
"We thank the New Zealand Government for their continuous support and we hope to fully vaccinate our target population soon given that we have more vaccines available in Fiji now."
Curr also thanked the Governments of Spain, Sweden and Norway and the European Union for their cooperation in securing these vaccines for Fiji.
In addition to access to vaccines, New Zealand is providing NZ$2 million(US$1.4 milllion) of Official Development Assistance to support the vaccine rollout and preparedness.
Through the COVAX Advance Market Commitment, Aotearoa New Zealand will be donating sufficient COVID-19 vaccine for 800,000 people in developing countries with a focus on the Pacific.
SOURCE: FIJI GOVT/PACNEWS